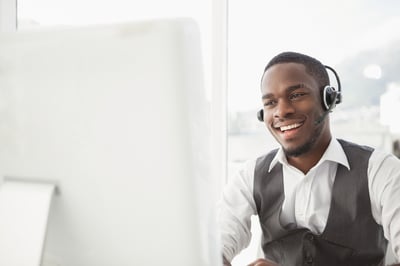 Finding the best IT service provider for your Omaha business is crucial. You want to feel confident that the provider you're partnering with is someone who knows what you need, is proactive with suggestions, and maintains the expertise to optimize your business technology now and in the future.

Are you a CEO, CFO, or Information Technology (IT) Manager about to embark on a search for an IT support provider in Omaha, Nebraska? We've gathered the best tips and questions you can apply throughout your vetting process. We will walk with you as you create your short list of potential IT providers, conduct interviews, and choose the best IT provider for your business. You will be armed for success. So, skip the buyer's remorse and build a trusted partnership with your new Omaha IT support provider.
Before Contacting Potential Omaha IT Service Providers
While there's initial research like searching Google and asking around town, the first step you want to take is to identify your IT objectives and what you're looking for in an IT service provider. So, before you discover and engage with a potential IT service provider, complete the following:
1. Identify your technology pain points and business goals
Where are you experiencing pain points or process problems relative to technology? Write down what you see and ask your staff for their input. Reflect on the below and ask your staff questions as well.
Do you have cybersecurity software installed? And are cybersecurity best practices implemented throughout the office? Do you have an education program in place?
Are your phone systems serving your needs well? Would your sales team benefit from an app that allows office calls to flow through to their cell phone?
Does your staff have the right tech tools when working from home or in the office?
Is your data securely backed up? Do you test the backup on a regular basis?


Understanding the pain points that need fixing and where you would like to take your business in the future narrows your search for an IT service provider. With the information you gathered, you can find the best expertise, boosting the results your business receives much quicker.
2. Prioritize what type of relationship you want with an IT service provider
When looking for an IT provider, the question must be: What are the most essential qualities an IT service provider can bring to your business?
For you, an answer might include:
Direct communication- You would like a timely response when daily service tickets are submitted. And you want someone to communicate with relative to long-term initiatives, someone who will ensure you accomplish these.
Bring long-term solutions to the table- Your IT service provider is meant to be a business partner, not someone who just pops in for your break-fix situations. They must contribute to the IT conversation by offering long-term, affordable solutions which enhance device performance, security, and network security.
Operationally mature- Technology supports your operations and what you deliver to your clients and vendors. You want to partner alongside a trusted IT provider with proven experience from similar companies.
Locally owned- You don't want your business to be another number on your IT provider's roster. You want to work with an information technology partner who can quickly come on-site and resolve technical issues with minimal downtime.
Cybersecurity-focused – The ever-evolving cybersecurity landscape necessitates placing IT security at the forefront of your technology-related initiatives. You will want that priority shared with the Omaha IT service provider you bring on board.


Once you've outlined the important traits of your trusted IT service provider, you can begin the interview process to find IT businesses throughout the Omaha area that fit your business needs.
Throughout the interview process
As you vet each IT service provider, there are specific questions you can ask to determine the IT provider's compatibility with your business. We've listed categories with our top questions worth asking in an interview:
1. When reviewing their service-level

agreement:
What services do you offer? (Not all IT service providers offer the same services!)
How will you plan to work with me to understand my business goals and processes?
How do you price your services?
What are the terms of your contracts?
How do you manage projects?
2. As you examine their cybersecurity standards:
How do you address security solutions for our business?
Do you provide any end-user training?
How do you stay up to date with cybersecurity?
How do you approach business continuity and disaster recovery?


3. What to ask about relative to quality of service:
What is your support desk's average response time?
How do you proactively maintain support for your current clients?
Do you outsource or use any subcontractors for your services?
How will my staff contact you for technical assistance?


Now, these questions are just the tip of the iceberg. You can find more interview questions, including follow-up questions, in our MSP Comparison Workbook, which is accessible by clicking the button below.
After you've met with each IT provider, you can go over your options in choosing the best IT provider in the Omaha and Lincoln, NE area for your business.
Narrowing down to your top choice
Choosing a trusted, quality IT provider that meets your business needs is no small feat. They deploy IT security, optimize your device's performance, and must be able to work with you quickly in an emergency. Before you sign the dotted line on your contract, here are a few extra steps you can take to give you peace of mind that your choice of the best IT provider is really the right one for you.
1. Ask the IT provider for referrals: Referrals provide real-time reviews on how the IT service provider performs daily, manages projects, their communication style, and any constructive feedback you need to know before entering a partnership with them.
2. Request their communication plan: Since communication is important to any relationship, determine how often you will hear from your IT service provider. Will you meet quarterly for a technology overview and to review action items? What about an annual meeting to discuss goals, a budget, and a technology roadmap? What reports will be shared regularly?
3. Determine how they fit into your company culture and values: Due to the complexity of your IT systems, a quality IT service provider prioritizes communication and relationship-building. You want a trusted IT provider to improve your IT operations and anticipate future tech needs.
Once you've decided on an IT service provider, call them, sign the contract, and start onboarding! (If you're nervous about the onboarding transition, you can find everything you need to make the process smoother and faster here.)
We're throwing our hat into the ring to be your Omaha IT service provider!
At CoreTech, we know what quality looks like in an IT service provider because quality IT is what we provide to our clients! In the same way, we have provided information on finding an IT service provider, we will do the same in creating an IT budget, plan, and technology roadmap for your business. We take a proactive approach with cybersecurity updates and alerts, which earned us the CompTIA Security Trustmark+ in 2021.
In other words, quality isn't simply a value we print out on documents to give to potential clients. It's a standard we strive for daily as we continue to build relationships with small to mid-sized businesses across the Omaha area. We'd love to meet to discuss how we can help your business. Contact us today!
Additional Resources