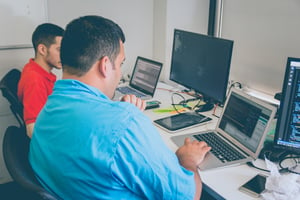 For most small business executives and managers, their primary business operations do not revolve around technology and cyber security. In fact, most executives prefer to focus on the day-to-day tasks of improving and growing their business rather than deal with technology problems. However, those technology problems often have a way of turning into stumbling blocks that reduce efficiency, increase downtime and leave the business vulnerable to a data breach.
Addressing these problems can be overwhelming and time consuming if you are not an expert. But by turning over the following four tasks to a managed IT services provider, you can make room on your plate for the items you want to prioritize: serving your clients and growing your business.
1. Help Desk/Tech Support
As your business grows, your technology needs will, too. This, in turn, can start to take a toll on your internal IT manager. Demands from employees to address technology hiccups, the inability to keep up with network and software updates, and the lack of time to address known vulnerabilities can all add up to an overextended IT manager or department. In fact, according to a 2018 report from the Ponemon Institute, 58 percent of respondents stated that they do not have adequate staffing to scan for vulnerabilities in a timely manner.
By bringing in a managed IT services provider, you can reduce the strain on your IT manager by making sure your systems are regularly maintained and updated, employees' technology problems are resolved in a timely manner and potential setbacks are addressed before they occur.
2. Remote Work
The ability to work away from the office continues to be a growing necessity for many employees. To do so requires businesses to put systems and devices in place that both provide access to your networks and keep them secure. A managed IT services provider can help you create a customized solution that keeps your employees connected without increasing cyber security risks.
3. Project Consulting
As your business grows, your IT infrastructure needs to grow with it. Otherwise, it becomes overloaded, inefficient and at high risk for a data breach. A managed IT services provider can evaluate your current networks and systems and help you determine what improvements need to be made. Once you make a decision, they can install and maintain your IT infrastructure for you.
4. IT Security
Keeping your data and your clients' data secure is no doubt at the top of your priority list. And it's particularly important when you need to comply with strict industry regulations. When you work with a managed IT service provider, you benefit from working with a single vendor that will thoroughly and efficiently monitor your networks and systems to thwart potential threats. They will also continually seek out and eliminate possible gaps that could later lead to a security breach.
Benefits of Managed IT Services
Reducing your workload is not the only benefit of hiring an MSP. Other benefits of managed IT services include:
Predictable spending. With an MSP, you will receive a breakdown of costs for each task in your contract, so you won't be surprised by unexpected expenses for things like service calls, software updates and security threat mitigation.
Budgeting consistency. Knowing the costs of your MSP services means you can budget accordingly without worrying about a shortfall in the event of a failing system or other IT emergency.
Cost savings. Paying for MSP services may be more than you initially planned; however, when you consider reduced downtime, improved efficiency and streamlined processes and workflow, the benefits quickly outweigh the cost.
Resource management. Rather than diverting employees to deal with technology setbacks, you can maximize your employees' talents and time to do what you hired them to do: serve your clients and grow your business.

At CoreTech, our experienced team can help you evaluate and create a customized managed IT services solution for your business. Contact us today for more information.