When a small to midsize business switches to a new IT services provider, many experience friction as they get to know the latest IT support staff they're working with. The onboarding experience can be an exhaustive process for some companies, which is one of the leading causes behind why many small businesses won't switch providers even when they need more comprehensive support.
Yet, the onboarding process doesn't have to be as time-consuming and as daunting as it may seem. With the right managed service provider (MSP), your Omaha business's transition will be smooth and even improve your day-to-day productivity and uptime.
We know you have questions about how to ensure a smooth onboarding process, we receive a lot of them from clients! Of course, we can't speak for all MSPs—but we'd like to acknowledge the common questions small to midsize business managers ask about the onboarding process, how to make it a smooth one, and thoughts to keep in mind while interacting with their new IT services provider.
I interviewed Damon Hagerty, IT Manager with CoreTech, and Wynn Obermeyer, Director of Technical Services, to discover how CoreTech helps companies transition smoothly with a documented process.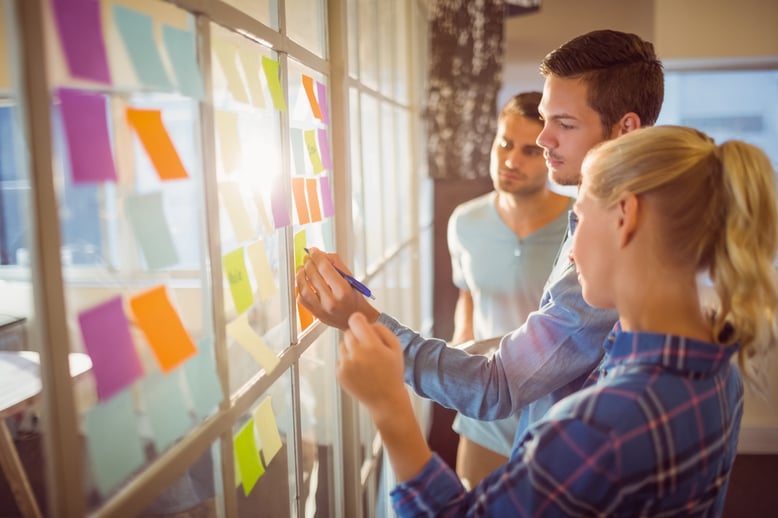 Common questions SMBs ask before onboarding:
How soon can onboarding start?
Of course, we'd like to start as soon as our team is in place, however first we gather all your technology and staff information as we build your onboarding project plan. We understand that each business prefers their pace for completing the onboarding process, and we're willing to be flexible with you and your staff. To maintain business operations, open lines of communication with our team members are vital for a fast, smooth client onboarding process. Still, we want to work with a timeline that meets your business needs.
What are the steps or timeline of the onboarding process?
Onboarding is different for every business, depending on the number of users, the type of software and hardware they're using, and other factors. In general, our customer relationship begins with an internal meeting, and a client meeting, then we begin the onboarding phases.

To explain further, before meeting with you, our CoreTech staff meets to discuss your small business size, the services we will provide, and other essential details related to your IT needs. After the business review meeting, we will set up a meeting with you to introduce your account manager, IT manager, and the project team you will be interacting with during the onboarding process. After the introductions, we will begin the different phases of the onboarding project.

Because every small business is different, the onboarding process varies in the time it takes to complete. Regardless of the time frame, we will ensure your business experiences little to no downtime as we work.
How much business disruption should we expect during the transition period?
Our process is planned and followed so that new clients experience minimal disruption during onboarding. At times, unforeseen circumstances might slow the onboarding process as we troubleshoot and look for solutions to technical issues. We may also need to wait for important information before moving forward with the onboarding process, but we will try to do as much as we can in the other onboarding phases.
How will onboarding change operations for us?
Of course, this is a business-by-business case. We understand that change isn't easy; so we make the transition to a new IT service provider smoother with multiple communications through email, phone, and our resources page. At the start, we discuss what will occur during onboarding with your primary contacts, as well as communicate to your staff what will take place.
If you still have questions, please call our support line, and we will show you how the applications we recommend for our clients, such as our client service support portal, your M365 subscription, or your Nextiva service, work.
We understand these aren't the only questions small businesses ask during onboarding with us. Feel free to contact us or leave any onboarding questions in the comments below!
How to make onboarding a smooth process
Onboarding doesn't have to be a thorn in your side after signing up with a new IT service provider. The following MSP client onboarding checklist will make the transition smoother and allow us to build relationships and trust with you and your staff.
1. Communicate clear expectations with your new MSP
As you begin onboarding, understanding your business's intention behind hiring an MSP clarifies your IT goals and prioritizes what demands must be met sooner rather than later. We recommend meeting with your management team and answering the following questions:
Why are you switching or signing on to a new MSP?
What do you expect from your IT provider?
What services are you missing or weren't receiving from your previous MSP?
Where would you like your technology to take you?
What are your long and short-term business goals?
Discuss practically what your business needs and expectations are for your incoming managed service provider. As an MSP, we aim to meet you where you are and help you grow. Knowing exactly what you need from your IT service provider will allow our expert team to help your small to midsize business succeed and allow us to help you with exceptional IT support.
2. Have a general understanding of your immediate IT needs
No, we're not expecting you to know everything about your network and devices; that's what we're here for! However, by giving us a synopsis of the problems you are experiencing, we can direct our attention to those issues and suggest and implement solutions sooner than later.
3. Provide your MSP with all the necessary information
How you use technology in your business is often unique to you, providing as much information about your processes and systems as possible will make the onboarding process smooth, easy, and fast. We'll usually try to guide you through the process if you don't know where to find the information we are asking for.
This includes if you're switching over from a previous MSP. MSPs often interact when clients move, so as you transition, the prior MSP will give any data collected over time to the new MSP. We will work with your previous MSP to gather as much information as possible about your network.
In order to provide you with excellent IT support, we need a full, clear picture of what's happening in your systems. We will also be able to offer affordable suggestions if any major or minor changes need to be made to your IT infrastructure.
4. Pave the way with your IT staff or department (if applicable)
Some small businesses come with an IT staff member or a team, and we're excited to partner with them as an extra layer of tech support. Sometimes the lines can blur as to who is responsible for what when it comes to IT projects and tickets. If you have an IT staff member or a team, involve them in the process, and communicate to them what you want to accomplish in hiring an IT service provider. Relaying the benefits and helping them measure progress towards your business goals and how we can help take the load off their shoulders. Our goal is to provide relief and support to the plans they are working to accomplish.
Keep in mind…
Finally, as you continue through the onboarding process, we hope you keep these factors in mind if you're ever experiencing difficulties or feeling frustrated:
As with other business partnerships you have, gathering all the necessary information will streamline the onboarding process for a smooth transition.
If we experience any bumps during the onboarding process, we will contact and inform you of the issue, how we plan to proceed, and if that will affect the onboarding timeline.
We're here to help you and continue building a trusted relationship that we hope will last a long time.
This will be the easiest decision you've ever made!
If the stress of onboarding is the only thing keeping you from receiving more comprehensive support, it's time for an IT upgrade. On top of onboarding, we understand that finding an MSP that compliments your business technology needs can be stressful if you don't know what questions to ask. You can discuss with your potential MSP their onboarding process, as well as their cybersecurity policies and support services, by downloading our MSP Comparison Workbook!
If you have any other questions about our onboarding process, feel free to give us a call or send us an email. We'd love to connect with you.
Additional Resources