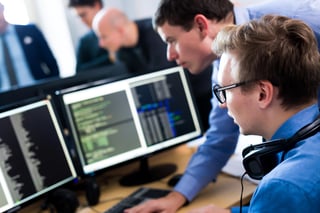 Is your business experiencing growing pains? Growth within small to midsize businesses can rapidly change the way it operates. And this can start to put a lot of pressure on your internal IT team — whether that's one person or a small group of staff helping out. It may be time to evaluate your technology needs and choose a path that will grow with your business on into the future. So, how do you know if your company is ready for this next step?
Here are 10 signs it's time to hire an IT managed services provider (MSP):
1. Your staff keeps encountering problems that your in-house IT team can't solve.
If your staff are regularly experiencing problems that your IT staff can't seem to solve or you are encountering the same problems over and over again, this may suggest that your part-time IT guy or designated staff person doesn't have the knowledge necessary to fix the problem. Working with an MSP gives you access to a wealth of IT knowledge and expertise so that you receive the help you need when you need it. Whether it be a remote help desk or on-site support, various levels of expertise are available to you.
2. You get blank stares when you ask about new systems to improve operations.
As your business grows and your needs change, there's a good chance you'll be looking for new systems and software to help improve overall operations. If your IT team is not able to help you make these changes or support the changes that you want to make, then it may be time to bring in some help.
3. IT fixes problems as they occur instead of approaching issues and systems proactively.
If your IT person has only ever been reactive, this can be a sign that they are either overwhelmed or there is a gap in expertise. If your in-house IT person or team doesn't bring up ways to improve things and only fixes issues after they happen, it may be time to hire an MSP that is proactive about important IT needs, like security and data backup.
4. You haven't heard from your IT person about security updates in a year.
Does your IT team discuss security updates with you? If they aren't updating your IT security to meet the growing and changing needs of your business, this could have serious consequences. If you haven't gotten security updates from your IT team in a while, this may suggest that your IT person hasn't taken the necessary steps to ensure that your security is up to date.
5. The organization has grown to the point that day-to-day maintenance consumes your IT team's time.
If you've got special projects in the works, it's important that your IT team is ready to help with these projects, from strategic planning through to implementation and ongoing support. If they don't have the capacity to take on new projects because they are bogged down with the day-to-day fixes, this can delay progress.
Though your first instinct may be to outsource help on a one-time basis, you still need to free up time for your in-house person to collaborate on the project work because they have a strong knowledge of internal operations. An MSP can provide both project resources as well as support for the day-to-day maintenance, allowing your IT person to focus on important projects that contribute to business growth.
6. You have no backup support when your IT person is out.
Companies with a small IT team often have difficulties when IT personnel need to take time off for vacation or illness — not to mention the devastation of an IT team member quitting. Hiring an MSP gives you the comfort of knowing that someone will always be there to fill in the gaps and help support your IT team when someone has to take a day off, whether planned or unexpectedly.
7. Your IT team struggles to take on certain types of work like budgeting or strategic planning.
One of the greatest managed IT service benefits is that it allows you to supplement your in-house team's knowledge and capabilities. Different types of expertise and skill-sets are required for different aspects of technology management. Someone great at troubleshooting may not be the best at budgeting or strategically planning technology advancements for the coming year, and someone who is great at managing IT projects may not be well-versed in the cyber security threat landscape and therefore won't know what security solutions your business needs to prevent an attack today. You likely won't be able to find all this knowledge and capacity in one single person. An MSP can help supplement your team and provide the expertise you need to ensure that all areas of your IT are covered.
8. You experience a security incident that causes significant downtime.
If you've experienced a security incident — whether big or small — that has caused your organization to experience downtime or data loss, this suggests that your business is not prepared for ever-present and continually evolving security threats. Without the proper systems and procedures in place, you may be leaving your organization open to even bigger threats in the future. A managed services provider can ensure that your business is taking proactive steps to keep security at the forefront of your IT operations.
9. Department heads are circumventing IT and finding their own apps, systems, and software.
Do you find that department heads are going around IT to get the programs they need? This could indicate that your IT team isn't knowledgeable in those areas or doesn't have the time to help. An MSP can provide your entire organization with assistance finding the right apps, systems, and software to improve operations and keep things running smoothly every day.
10. You're not budgeting for IT or have no justification for your budget.
If you don't have a documented budget for technology or you've created a budget without the strategy, goals and data to justify it, you aren't able to take your business in the right direction and fund the effort appropriately. It takes a specific skill set and the right data to make informed choices about your IT budget. An MSP can help guide you in the right direction to ensure you're not spending too much or too little on IT.
Hiring a Managed Services Provider
Organizations big and small are leaning on managed services providers to help supplement their in-house IT person or staff. With an MSP by your side, your organization has access to a wealth of knowledge and expertise, when and where they need it. Whether it's a capacity or knowledge issue, we're ready to help your organization plan for, implement, and maintain the infrastructure necessary to support business growth.
CoreTech offers managed IT services that enable your business to have more structure around your IT processes. We'll help you make more informed decisions about what types of technology your company should invest in. Our responsive team can also help your IT department get things done quickly, so no one has to wait around for the support they need. Whether you have one in-house IT person or a small team, we are flexible with how we interact with your organization. Our team can serve as a help desk, assist with planning and budgeting, or provide additional support on special projects.
Are you ready to take advantage of managed IT services benefits? Contact us today to learn more.