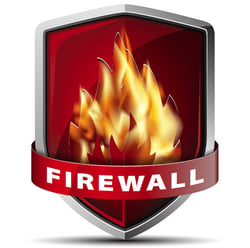 Why do you need so many different pieces of software and hardware to keep your network safe? Of course you want to keep your data secure, but why can't there be a one-size-fits-all solution that protects you from every threat imaginable? That would certainly simplify things, however with the expanse of the web and the continual chain of ever-evolving threats, it's essential that we guard our business with a multi-layered line of defense. This approach ensures that if a new threat is able to sneak its way past one piece of your security system, you have several others standing guard. Today, I would like to introduce you to an essential line of defense: firewalls.
What does a firewall do?
Your firewall is responsible for guarding your whole network of electronic devices by blocking unauthorized access to your system while only permitting safe outward communication. This means a hacker trying to remotely access your computer will be blocked from your system. Likewise, if someone in your organization attempts to access an unsafe site, they will be blocked from reaching that site. The only communication it should allow is from users on your network to websites it has been told are safe.
With nearly two billion websites in existence, there are innumerable security threats lurking all over the internet. Your company doesn't need to be left completely open to the entirety of the internet when you only need to access a certain number of websites to run productively and efficiently. Your firewall keeps your entire organization more secure. The more you can restrict, the less opportunity there is for a security breach.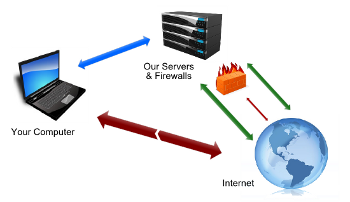 Why does my firewall block me from everything?
If you get a secure firewall that offers a lot of robust features, it starts out with a very small radius of sites it considers safe to access. So, when you first implement your firewall, it's likely to block you from going to websites you require. All you need to do is loosen some of the restrictions. Reach out to your IT support provider or department, we can program your firewall to suit your company's specific needs. It will also need to be maintained over time to combat new security threats.
Do keep in mind that your firewall is not infallible and you will need other pieces of the cybersecurity puzzle to keep your business secure. Every piece of protective software installed or hardware connected to your system does a specific job to protect your business. For more information on network security as a whole, check out Network Security for Omaha business. For questions or help regarding your business firewall or any other piece of network security, reach out to us at 402.398.9580 or email us at support@coretech.us.
Sources
https://www.cisco.com/c/en/us/products/security/firewalls/what-is-a-firewall.html
https://security.stackexchange.com/questions/46353/what-is-the-difference-between-antivirus-and-firewalls
https://www.lifewire.com/definition-of-protocol-network-817949
https://www.watchguard.com/wgrd-products/security-services
http://www.internetlivestats.com/total-number-of-websites/