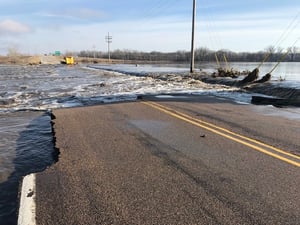 Most often, we deal with disasters like ransomware infections or down servers. But lately, Nebraska residents and businesses are combating severe flooding. Although natural disasters are statistically less likely to destroy your tech equipment than malware, we have recently seen firsthand just how devastating natural disasters can be when they do strike. In fact, this image was taken by CoreTech staff member, Mike, near his home this week.
When catastrophes like flooding occur, we become panicked about loss of communication with customers, vendors and especially staff. Since disasters are unpredictable and have the potential to occur at any time, business owners must always be prepared for the worst. With a Business Continuity and Disaster Recovery (BCDR) plan in place you will know what to do when disaster strikes. Putting a whole BCDR plan together may seem overwhelming, but we're here to help!
Taking the first steps
One of the first things you will need to decide is where your necessary business systems and applications fall on two different scales:
Recovery Point Objective (RPO): The point in which your data or files are recovered from.
Ex. Are you okay with losing data from the past 48-hours, 24-hours, or 1-hour?
Recovery Time Objective (RTO): How quickly your data is recovered.
Ex. Do you need your system or application back up and functional in 2-hours, 6-hours, or 24-hours?
Of course, we want all our most recent data backed-up and all our systems and applications to resume right away. However, if worse came to worse how would you answer these questions? If you want the most recent versions of your files backed up continuously, your backup solution will require more effort and will be more expensive to maintain. The same goes for how quickly your systems and applications get back up-and-running. You will see significant increases in cost when you're comparing solutions that take hours as opposed to a day or longer to recoup.
We will help you take a look at each of your business-essential applications and perform a cost-benefit analysis to ensure you're making the best decision for your business's budget now and in the future.
Beyond IT
IT is really only a portion of a BCDR plan. There are a lot of other factors to consider ahead of time regarding business interruptions and workflow continuity. Writing up procedures and documentation is a large part of a BCDR plan.
Our Business Continuity and Disaster Recovery services will help you stay ahead of issues most business owners wouldn't think to consider. For example, if you're deciding on the proper protocol for notifying IT, your attorney, accounting, etc. you're going to need printed copies available for when disaster strikes. Otherwise, if you're stuck with an infected or damaged system – how are you going to access the info you need?
If you do not already have a BCDR plan in place, reach out to us today.. Business Continuity and Disaster Recovery is far too important to put off any longer.