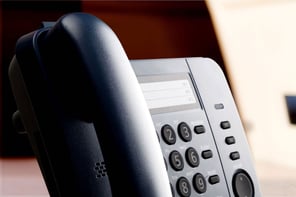 Would you be surprised to find out you're already using VoIP? Unless you live on a deserted island, VoIP has already become a part of your daily life--you just may not have realized it! Since Voice over Internet Protocol (VoIP) phones offer the same functionality as traditional, analog phones, you're not going to see a difference in the way you make or receive calls. The difference is in the way the information travels. It simply takes analog audio signals and transmits them over the internet instead of utilizing analog electrical waves. Since Information is traveling over an IP network, VoIP phones are able to offer a wider variety of features such as voicemail to email, call forwarding, twinning, ring groups and more. Read on to discover the different ways your business could utilize VoIP services.
VoIP technology is used in several ways:
Your business can simply subscribe to VoIP trunks via your local service provider. This is a gateway which allows you to use plain old telephone equipment with a Voice over IP network. It will allow you to connect with the outside world as you do with your current phone lines/services. With this option, you would use an on-premise phone system to facilitate the service. This solution often offers discounts and special pricing because it's less expensive for the service provider to deploy.
Another option is to use VoIP phones in your office and place calls via your local, internal network. With this option you can use a variety of line services including basic analog lines, digital trunks or VoIP SIP services.
You can also use VoIP services via your wide area network to connect multiple sites. This is done using varying types of equipment. It is an effective way to communicate between facilities with no service costs. Subscribe to our blog to hear about other advantages, which I plan to go into further detail about in future posts.
Cloud-based VoIP services are another way the technology is used. With this option, there's no up-front capital expenditure like there is with an on-premise system. Instead, you simply pay a monthly fee, per-seat, like you would with other data application services. For cloud-based VoIP services, you typically pay one amount per-seat, per-month and all upgrades and changes are included.
Keep in mind that there isn't one specific option that will work perfectly for all businesses. It's even possible to use different variations of these services at once, to best fit your financial and service requirements.
If you'd like to discuss the best options for your business, send us a message or schedule a meeting with us today.