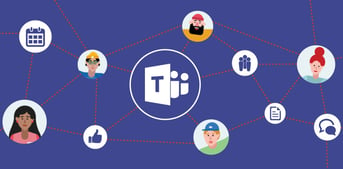 Teams is Microsoft's cloud-based communication platform that offers chat, video and audio calling, file sharing, and collaborative file editing. Since it's hosted in the cloud, you can access it on any device, from anywhere you have an internet connection. The benefits of Microsoft Teams apply to businesses of any size and assist in facilitating effective communication between teammates, whether they're in the next cubicle over or across the country.
Here are some areas in which your coworkers may experience the benefits of Microsoft Teams:
Collaboration:
Working together seamlessly is one of the best Microsoft Teams business benefits.
Chat, voice and video communication are all housed in one application.
Access the most up-to-date information with Teams, from any device, anywhere you have an internet connection.
Work with anyone inside or outside your organization. You can invite guests to communicate on Teams or give External Access to an entire domain.
Edit files in real-time. You'll always be working on the most up-to-date version, even if multiple people are working on it, at once.
Organization:
One of the primary benefits of Microsoft Teams in the workplace is keeping everyone on the same page in real time.
Separate and organize discussions by creating channels for individual teams, projects, or topics.
Everyone gets the information they need by simply posting in the appropriate channel for each project. Tag the team members the message pertains to, and everyone else can check the channel when convenient. This can be more effective than trying to remember all the right people to CC on each email.
You can mark messages as "Important" to make it red, or "Urgent" to notify the recipient every two minutes for the next 20 minutes, until they read it. This helps to ensure urgent messages are received ASAP (this goes without saying - but don't overuse urgent messages).
Efficiency:
Microsoft Teams' business benefits include saving time while increasing productivity.
Integrates across all Office 365 products and applications.
Integrates with over 200 3rd-party applications.
Search tool allows you to easily find a specific piece of information on any channel.
Search for words in recorded meetings to jump to the part of the video that contains the information you need.
Bonus:
The ability to put your finger on the data you need when you need it is one of the key benefits of Microsoft Teams.
In order to get the most out of all the tools and features Microsoft Teams has to offer, check out the training videos and step-by-step instructions they have built into the platform itself. Once you log in to Microsoft Teams, using the same login information that you already use to get into your Outlook email account, there will be a vertical menu along the left side of the screen. Click "···" to open more added apps. Click the icon with the question mark labeled Help. From here you can search Topics or click Training to see full modules of training opportunities.
If you are interested in obtaining more information the benefits of Microsoft Teams in the workplace, or need assistance getting it set up, contact us today!