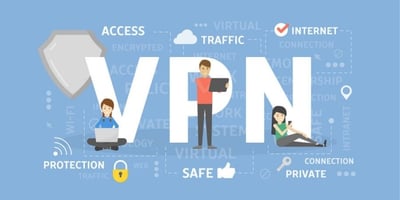 Many companies have been working remotely for over a year now—some with no plan to return to the office. As others plan to return to normal, others still are getting the best of both worlds with a hybrid approach.
No matter what work model your office adopts, security is still a crucial component of your company's technology setup.
As part of their security efforts, many companies use VPNs for their employees to connect to the office network.
In fact, many of your staff members may be using one daily, but likely haven't stopped to consider what it is and how it helps your company stay secure.
What is a VPN?
The acronym VPN stands for Virtual Private Network. It is a private computer network that functions over a public network. That sounds simple enough on its own, but let's unpack that a bit, as there's more going on behind the scenes.
When your employees are at work, they connect to a private, secure, computer network. Life is easy, things are all taken care of - as long as your security strategy adheres to best practices.
While at work, your employee devices have secure or locked-down internet browsing, intrusion protection and spam filtering, but most importantly, still have access to all shared files and printers.
However, having employees working remotely brings up a few issues to address.
How can your staff members continue accessing the resources they need while working away from the office?
Equally as important, how do we give them access while ensuring the security and confidentiality of that data?
A VPN acts as an encrypted tunnel to your company network
VPN software solves both issues through the creation of an encrypted tunnel between a remote computer and the organization's secure, firewalled network.
When a user, such as one of your employees, connects to any WiFi network, they are accessing the Internet from that location. However, that user is only as secure as that particular network, and they aren't able to access the resources they need to complete their job if they aren't on that network.
Does a VPN protect my employees on public WiFi?
Public WiFI networks are unsecured, and devices connected to them are visible to anyone else on them. Sometimes users don't connect to the networks they intend to—but actually an "evil twin" network of sorts set up by a malicious actor.
If you're not paying attention and access the network controlled by hackers, they can intercept any info you may enter in your session, like banking data. #eviltwinwifi #hackertactics #phishing #cybersecurity #gonephishing pic.twitter.com/fKyg8Ao8fa

— CoreTech (@CoreTechOmaha) January 6, 2021
For these reasons, it's not recommended that users access confidential information while connected to the network at a coffee shop or airport without a VPN.
What about a home network?
Home networks can be just as vulnerable, with others using the network and not adhering to best IT security practices. For example, maybe one of your employees is using a personal device to work from home, and their child sometimes uses that device to access gaming sites or other webpages. A child may unintentionally click on malvertising or navigate to another unsafe site, infecting the machine and potentially giving threat actors access to your company's private information.
In short, public and home networks aren't the best way to access company data.
That's where a properly configured VPN comes into play.
A VPN utilizes the employee's internet access at their location only to access the corporate network.
The software installed on the PC reaches out to the corporate network. It does so through requesting the employee's credentials and a second form of authentication, such as DUO.
Once verified, the software creates a private tunnel, so all network traffic is sent back to the corporate network.
This network traffic is wrapped in security protocols and encrypted. That way, the data moving over the internet to the corporate network is protected as if it is inside the network the entire time.
This is what is meant by VPN tunneling.
Once secure, your employees can access their data (securely) from anywhere!
Once your network traffic is secured and tunneled back to the corporate network, the employee will have access to their normal resources, as if they were in the office.
This will even help support employees who are outside of the state or working from another country, because their internet traffic will look as if it is coming from your corporate office.
If you have remote employees, be sure you have the necessary security protocols in place, like VPNs.
The setup of a VPN for a company can depend on the technology they employ on their network's edge.
If you have questions about whether a VPN is the right solution for your small or midsized business, CoreTech's team is here to help! We can evaluate your business' IT configuration to determine the right IT security tools to suit your needs.
And, our skilled technicians are ready and able to set up secure network technologies that promote safe and productive work environments.
Contact us today to learn more.
Additional Resources: