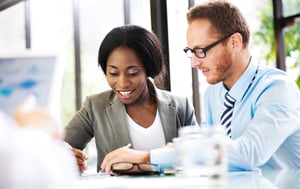 A business continuity and disaster recovery plan — also called an IT service continuity plan — is a company document that outlines what should be done in the event of a "disaster". This includes everything from natural disasters, like floods and fires, to server outages or security breaches and more.
Every business's continuity plan looks different, but most start with the following components:
Recovery processes for specific disasters
Inventory of assets
List of key contacts


Building a business continuity plan from scratch is a big task, but building one will make a huge impact on business security, potential downtime, and your organization's ability to recover from a disaster. Here's what you need to know about disaster recovery plans — and why you should start creating one for your organization now.
Top Benefits of a Business Continuity and Disaster Plan
The first goal of a business continuity and disaster recovery plan is to help your business minimize downtime and lost productivity in the event of a disaster. However, it also has other benefits:
It gives you a plan of action. Decisions made in the middle of a power outage or security event will not be the most rational, thoughtful directives. Designing a continuity plan, ahead of time, minimizes the need to make critical judgement calls in the heat of the moment.
It will save precious time during a disaster or systems event. Having a clear-cut process to work from enables your team to start taking steps to get critical systems back online as soon as possible.
It helps maintain profitability and reduce spending. A major security breach or disaster can seriously damage your reputation, impeding your profitability. That's especially true if customer data and information is compromised or if clients can't access your services. If customers and prospects are having trouble reaching you due to system downtime, they may question your reliability or even decide to take their business to one of your competitors instead. In fact, research shows that nearly 60 percent of SMBs fail after a cybersecurity event. With a continuity plan in place, your business can get back online quickly and minimize the impact on your customers and your bottom line.
It helps you audit IT assets. Creating an inventory of your devices, applications, networks and other IT assets will help you keep track of existing technology and understand when it's time to upgrade.
It helps you set IT priorities. Many organizations find that a business continuity and disaster recovery plan helps them identify which systems and devices they consider "mission-critical" to operations. This not only helps you understand how to design your recovery plan, but also where to focus IT spending in the future.
It can help you identify gaps in your processes or security protections. Truly secure and efficient IT systems take a lot of evaluation. Building a continuity plan can help you understand where vulnerabilities or inefficiencies exist and how you can make plans for improvement.
It gives you peace of mind. The thought of a potential disaster keeps many executives and IT professionals up at night. Proactive planning helps ease some of those fears, since you'll feel confident that your team knows what to do if the worst happens.


Tips for Designing and Managing a Business Continuity Plan
Building and maintaining a business continuity and disaster recovery plan may seem daunting. However, there are some steps you can take to make the process more manageable and effective:
Don't be intimidated. The most important thing is to get started. Even if it feels overwhelming, taking those first steps to start building a plan will at least get you a framework to work with. You can always make improvements later.
Make it a living document. Your business priorities — and IT systems — will change as time passes. Therefore, it's important to review your continuity plan regularly and make updates as needed. Plan to revisit it at least once a year.
Test your plan. Running through different scenarios and testing the recovery strategies you've planned can help you determine what's working and what's not — before you need it.
Get the help of an MSP. Most managed services providers (MSPs) can help you evaluate your current systems and devices and build a comprehensive business continuity and disaster recovery plan.


If you're thinking of designing your own business continuity plan, CoreTech can help. We have extensive experience helping small and midsize businesses like yours create strategies to minimize downtime and respond quickly in the event of a disaster. We'll help you leverage new technologies and solutions to keep your business assets safe. And we can provide continuous monitoring and active support to help you recover faster. Contact us today to learn more.