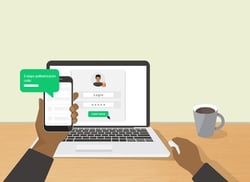 I recently came across a website with some great information on two-factor authentication (also known as 2FA or TFA). You've more than likely experienced two-factor authentication at one time or another when logging into a Microsoft or Google account, and yet, should you consider it for your business? Yes, definitely.
Protecting your business
Although an additional security step in the login process, two-factor authentication is quick and worth it. Two-factor authentication is being widely adopted because it contributes to more secure systems at the network and desktop level.
Take a look at this website to learn the basics of two-factor authentication and then contact us: https://duo.com/why-duo/why-two-factor-authentication-2fa
Let's talk about two-factor authentication possibilities for your business. Send us an email by clicking on the button below: