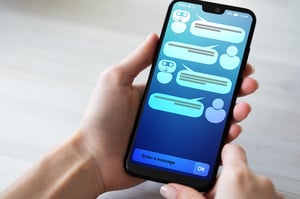 Meetings are more than events; they're workflows that start before and continue after. Microsoft Teams apps for meetings keep you productive and let you stay in the flow of work across the entire meeting lifecycle.
Over the past year, the pandemic has dramatically changed the way we live and work. Organizations around the world have adopted tools like Microsoft Teams to support working from home and hybrid work models.
Today, over 115 million people log on to Microsoft Teams daily. And while video conferencing was a key driver for Teams rapid growth and adoption, customers quickly realized the need to digitally transform beyond meetings to support a new way of work.
Organizations want to integrate apps and business processes into where work happens—to better serve customers, streamline work, and improve employee productivity and wellbeing. Conversational bots, or chatbots, are one way they can do just that.
What are conversational bots in Microsoft Teams?
Conversational bots allow users to interact with your web service through text, interactive cards and task modules.
Bots are incredibly flexible. They can be scoped to handle a few simple commands or complex, artificial-intelligence-powered, natural-language-processing, virtual assistants. They can be one aspect of a larger application, or completely stand alone.
Where do bots work best?
Bots in Microsoft Teams can be part of a one-to-one conversation, a group chat or a Teams channel. Each scope provides unique opportunities and challenges for your conversational bot.
In a channel
Channels contain threaded conversations between multiple people, and this potentially gives your bot massive reach, but individual interactions still need to be concise. Traditional multi-turn interactions probably won't work well.
Instead, look to use interactive cards or task modules, or potentially move the conversation to a one-to-one conversation if you need to collect lots of information. Your bot will also only have access to messages where it's @mentioned directly, although you can retrieve additional messages from the conversation using Microsoft Graph and elevated organization-level permissions.
Some scenarios where bots excel in a channel include:
Notifications, particularly if you provide an interactive card for users to take additional information.
Feedback scenarios like polls and surveys.
Interactions that can be resolved in a single request/response cycle, where the results are useful for multiple members of the conversation.
Social/fun bots — get an awesome cat image, randomly pick a winner, etc.
In a group chat
Group chats are non-threaded conversations between three or more people. They tend to have fewer members than a channel and are more transient. Like a channel, your bot will only have access to messages where it's @mentioned directly.
Scenarios that work well in a channel will usually work just as well in a group chat.
In a one-to-one chat
This is the traditional way for a conversational bot to interact with a user. They can enable incredibly diverse workloads. Q&A bots, bots that initiate workflows in other systems, bots that tell jokes and bots that take notes are just a few examples.
There are multiple ways to extend Teams, so every app is unique:
Some only have one capability (such as a webhook), while others have a few capabilities to give users options. For instance, your app could display data in a central location (tab) and present that same information through a conversational interface (bot).
See the following illustration to get an idea which capabilities would provide the features you want in your app.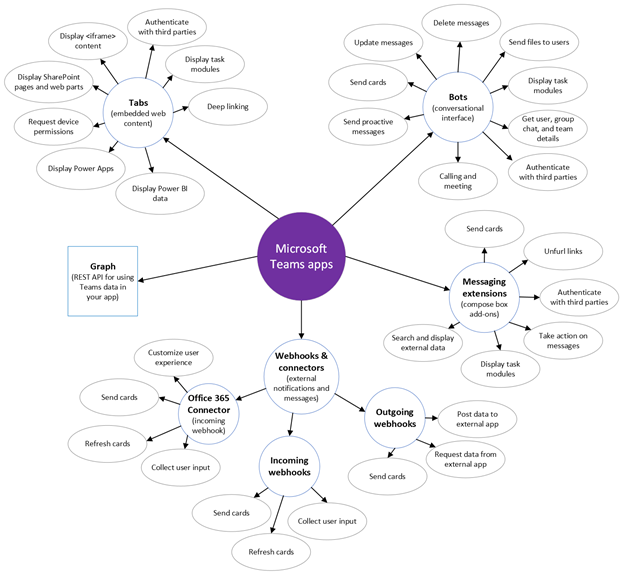 Teams is designed to enable this new way of working. It is the only platform that brings together chat, meetings, calling, file collaboration, and apps you need, all in one place.
You can easily customize Teams with apps to fit your specific needs—whether that's adding apps from the Teams app store, or creating custom line of business apps, workflows, or bots to use in Teams.
While all teams need a place to communicate and collaborate to move work forward, every team does it differently. That's why you can customize Teams with apps for chat, channels, and now, meetings.
As you can see, Teams makes it easy to customize your workspace – whether that's adding SaaS apps from the Teams app store, or creating custom apps, workflows, or bots to use in Teams.
Do you have questions about Microsoft Teams and its numerous features—including bot capabilities? Contact CoreTech today. We can help you determine the right Teams configuration for your organization.