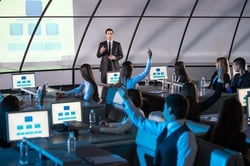 As an owner of a small business myself, I have some crucial advice for you: you need to step up training your staff on IT security basis. Here are six reasons why.
1. Speed up recovery time and save money
For example, if an employee makes the mistake of clicking on an email containing malware, the chances of them realizing their error quickly and contacting IT support staff greatly increases. By taking this step right away, the amount of damage done is generally less compared to what it might have been had they waited to call.
2. Lessen lost productivity
When businesses consider a security breach, generally the first thing that comes to mind is the company data loss along with money lost. However, this isn't the correct approach to take.
What many fail to take into account is lost productivity that a security breach will bring on.
Ransomware
is a large culprit of lost productivity. The process of restoring systems can take a number of days—the average is 15. Data will be lost if you don't maintain a backup as well.
3. Protect your clients, vendors and others
It's important to remember that it is not only your company data you are protecting. Clients, vendors, and other company contacts become vulnerable when your system is hacked.
Managers must ask themselves "How would it affect our reputation if customer data was stolen?" Protecting your business, as well as those you interact with must be a top priority for you and your staff.
4. Support the security systems you have in place; don't overspend
Simply because your company has an expensive firewall or one of the best antivirus protection systems, does not mean your data is not at risk. The question really is what will you do when, not if, a security breach occurs.
As protection methods keep evolving and improving, so does the criminal element. They continue to find and exploit security holes they uncover. Layers of security are key, however, overspending on security to cover every imaginable scenario will actually handicap staff and lower production.
To avoid going overboard on security, employees must be trained to spot threats as well.
5. Security threats are on an upward trajectory
Threats are more prevalent as hackers continue to exploit people and system vulnerabilities.
By training your staff on current security risks now, you are preparing them for future threats. After training and practicing what they have learned, employees develop an awareness and a plan to address risks and threats.
For example, when someone emails asking for personal information or a password, their first question is, "Why?"
6. Threats are not always instigated via websites, browsers and email
When we hear the word cyber threat, many of us think of these risks stemming from internet browsers, infected websites, or scamming emails. Occasionally, threats originate from a phony phone call made from a scammer impersonating Microsoft support staff that is allowed to remote in to a computer or a
USB drive
that is found in a parking lot and wrongly plugged into a computer.
Train your staff not only on the risks, but where they can originate. This is one of the best ways to ensure maximum protection of your data.
No company is too small to not have security systems and plans in place. Criminals are attracted to companies with weak security barriers and want to pick off the low-hanging fruit where possible. Know the risks and train your staff to keep themselves and your business safe.
Contact us today
to learn more about our training services and software and ensure that your employees become your first line of defense.