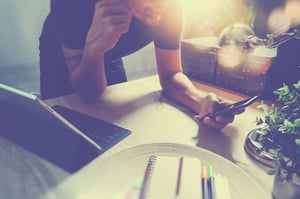 For many years I thought that customer service was a dying art. However, in the last couple of years I've found that has changed. More recently, I've noticed that customer satisfaction has gained a lot of importance. Customers have begun to expect a lot more from companies, knowing that customer loyalty is a hard win. Customer service and customer satisfaction are truly what differentiate you and your company from the competition. Putting yourself in the shoes of your customers and understanding their needs is one of the most forgotten secrets to developing excellent customer support service.
The secret to a loyal customer base is no secret at all: Great customer service will bring them back every time. These statistics say it all:
One happy customer can equal as many as 9 referrals for your business.
Great customer experience can lift revenue by up to 15%.
86% of buyers would pay more for better customer service. 74% of consumers have spent more due to good customer service.
By 2020, customer experience/satisfaction will overtake price and product as the key differentiator.
56% of consumers say they have higher expectations for customer service now than they had even a year ago. CSM Magazine

As with any aspect of life, consistency is key. When you are consistent, customers know what to expect and are happy to return for the high quality of care and the products they have grown to love. Making customers happy makes them want to share their positive experience with other people. No one will care how good your products are if you do a poor job delivering them. Customers appreciate care and attention, and they tend to resent it—vocally—if it's not evident. Always putting the customer relationship first will be a win-win for everyone.



At CoreTech, we understand the importance of building relationships with our clients and strive to bring the best experience alongside our products and services. Especially in our industry, where we pursue collaborative partnerships with our clients, customer service needs to be a priority. If you are interested in partnering with us as your IT service provider, give us a call at 402.398.9580 or send us an email at info@coretech.us. We look forward to hearing from you!