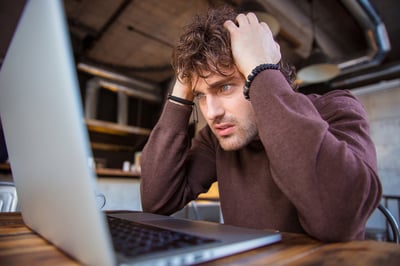 For small to midsize businesses, there is a lot to lose when ransomware successfully makes its way into your computer system or network. The financial loss alone could close a small business down. Organizations with fewer than 500 employees spend an average of nearly $3 million per incident, and about 60% of small companies close within six months of a successful attack.
Unfortunately, other natural consequences come with cyber attacks. Omaha businesses need to be aware of the following:
Business downtime
Network and internet downtime is something all businesses avoid as it contributes to loss of production and in turn revenue. The average duration of downtime after a ransomware attack was 22 days, according to Statista. That is almost an entire month's worth of potential profit, connections, and data lost while your systems are down. To reduce and eliminate the downtime you will want to take a proactive approach to the maintenance of your network and systems that also includes security patches. Tools such as desktop advanced threat protection, and a unified threat management firewall appliance help stop threats before they reach your people and network. In addition, email phishing education for your staff can prevent ransomware from reaching your network if they do happen to receive a phishing email.
Product and service delays
Business downtime also means product and service delays. Until you can get your systems back up and running, you have no idea what the demand is or how much you need to supply. You might be able to send out orders that have already been received, but that's if you can access your network and systems.
Workplace tension
To make matters worse, your company internally suffers because of the stress and pressure circulating throughout the office. Trust towards management and coworkers might deteriorate, causing tension and emotionally-charged environments. Employees might point fingers at one another so they don't risk losing their job, and rumors of downsizing or layoffs could spread, further increasing anxiety.
Eroded brand reputation
Brand reputation can make or break an Omaha small business. You have taken the time to build a solid relationship with your clients and vendor partners, and a cyber security breach could destroy any trust you have built with them. You could lose investors and even employees because of the breach, resulting in a lack of manpower and funds within the organization.
Your tainted brand could also knock you out of the running for potential customers. Because the internet helps prospects gather information about you, it will be easy for them to learn about the security breach. As a result, their decision-making process might take them in a different direction due to poor reviews.
Compromised data
Whether you buy back your data, or you access the data you have (thankfully) backed up, there is still a conflict of confidentiality. Cyber criminals can sell compromised employee passwords, client information, and more on the dark web. It is all a matter of what they can get their hands on.
How cyber insurance helps
There is a multitude of methods you can use to prevent and prepare for an attack. But if a ransomware attack does occur, you will want your cyber insurance in place.
Generally, cyber insurance protects your SMB from liability after an attack. Specifically, insurance covers areas regarding network security and privacy liability, as well as network business interruption.
In terms of network security and privacy liability, cyber insurance covers your business should you experience a data breach, malware infection, phishing attempt, or ransomware. Whether you are needing legal expenses, data restoration, or customer breach notification expenses covered, your cyber insurance provider will walk you through their policy, so you feel comfortable with the coverage your business maintains should a cyber attack occur.
If you experience network business interruptions, cyber insurance helps you recover any expenses and miscellaneous costs you may incur from a ransomware attack.
While CoreTech does not provide cyber insurance, we do know several business insurance agents that do. We are glad to connect you to them. In addition, our team can help your Omaha business with security solutions that allow your business to meet cyber insurance requirements. From network monitoring and advanced threat protection to MFA and dark web monitoring, we guide you through the process of building strong security. Contact us today to learn how you can take your IT security measures to the next level.