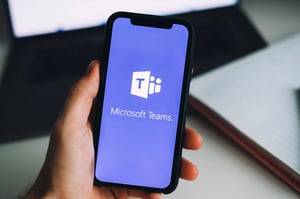 Like many organizations, you're likely using Microsoft Teams to chat, call and collaborate with employees in the "new normal," but did you know that there are applications and bots that you can use within Microsoft Teams? Known as Microsoft Teams connectors, these applications and bots make Microsoft Teams even more of a productivity powerhouse.
What are Connectors for Microsoft Teams?
Connectors for Microsoft Teams are basically add-ons for your groups/channels. They can be used to improve productivity and connect third-party databases. And, you can even create your own. These connectors can also act as bots that you can message to get particular information about your company, and the bots can make messages or announcements themselves, as long as certain scenarios are met.
No matter what sort of task you need to complete, there is likely a Microsoft Teams connector for it.
What are the advantages of using Microsoft Teams connectors?
The greatest benefit of using a connector is the streamlining capability. Instead of having to check multiple applications, databases or emails, connectors will have them all streamlined and posted as a message on whichever channel you specify.
Most of these connections will have some customization available. However, while most connectors will have customizable features, the level of control will vary from connector to connector.
What connectors are available for Microsoft Teams?
There are many connectors available to you. If I were to list them all, this blog would become an encyclopedia. Microsoft has several of their own connections available (SharePoint, OneDrive, & Yammer are examples), but below, I've listed some of the more popular third-party connectors.
Twitter: This connector allows employees to manage tweets on the company's twitter feed. This removes one additional tab and streamlines it to a single location.
LinkedIn: This connector will allow one to manage their company's network, blog posts and opportunities through LinkedIn. One nice feature of this connection is that you can share your articles between LinkedIn and SharePoint, schedule blog posts and even share updates to a post.
DocuSign: This can really come in handy for those who need to keep track of documents that need a signature. You can also track who has yet to sign a document and the document's storage location.
Are connectors available to everyone in my organization?
Connectors are available for everyone to use or add to a Teams' channel, but your Microsoft 365 administrator can configure permissions for connector use. For instance, maybe you only want your administrator to have the ability to add or modify connectors, or maybe you want to give a select few employees that option. Or, you can determine permission levels on a per-connector basis, meaning that some people can add or modify some, whereas only the admin can add or modify the others. It really depends on your organization's needs.
Can you create your own Microsoft Teams connectors?
You can build a custom connector for Microsoft Teams, however, this will require a certain level of knowledge for creating workflows or applications. There are pre-made templates in Microsoft Flow to help get you started, or at least get an idea of what to do. There are plenty of training videos and demos that can help you as well.
How much will connectors cost?
This will vary on what connector you need. Some will be free, and other companies require payment. Setting up a new connector and conducting tests might cause temporary hits in productivity, but connectors also present the opportunity to streamline your workflow and make your organization's processes more efficient, thereby causing a boost in productivity that can make your investment in the connector worth it in the long run.
Are you interested in deploying Microsoft Teams connectors in your organization?
CoreTech's expert team of professionals can help you determine the best Microsoft Teams connectors for your business. We will also gladly assist with the configuration of those connectors for your organization.
Most importantly, we can ensure the integration is quick and efficient—without any major hits to your organization's output. Contact us today to learn more.