Nearly 70 percent of small businesses have experienced some form of cyber attack, and nearly 60 percent have experienced a data breach in the last year. While these statistics are certainly alarming, what's more alarming is that about half of small businesses have little to no understanding of how to protect their companies against cyber security threats.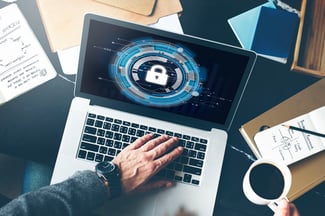 That's where managed IT security services come in. A robust and effective IT security strategy requires numerous tools, and most small to midsize businesses just don't have the time or expertise to manage these different layers successfully. IT security consulting firms provide managed services that offer businesses ongoing cyber security protection from experts who know how to prevent, identify and respond to cyber security threats.
Here are just a few ways that a managed IT security services partner will benefit your business.
Make Sure All Your Bases Are Covered
Managed IT security services work a little differently than if you were to just purchase security products on your own. IT security systems are not something you can "set and forget." They need ongoing care and maintenance to maintain effectiveness. A managed service provider (MSP) provides that ongoing care by taking a proactive and holistic approach to security.
As part of managed IT security services, your MSP will look at all the different pieces involved in your security system — firewall hardware, security software, email filters and more — and make sure that they interact and overlap appropriately so that you minimize redundancies and gaps in your security. With an MSP ensuring that you have comprehensive IT security coverage, you have more time and ability to focus on what matters most to you and your business.
Get Ahead of Cyber Threats
When it comes to effective IT security, proactive monitoring goes hand in hand with routine application and equipment updates. Typically, businesses will install security software and let it run in the background. But the problem is that they don't know they have a security problem until they get a pop-up telling them their data has been compromised.
With managed IT security services, your business benefits from proactive monitoring performed by IT security experts. The MSP's team monitors your devices and network around the clock, looking for unusual behavior or signs of potential security issues. For instance, if a new admin account gets created suddenly or a user is logged on during a time they typically wouldn't be, these could be signs of a breach.
By proactively monitoring your system for signs of cyber attacks, your MSP helps you stay ahead of these issues so that you can confine the threat and minimize damage.
Help Your Employees Avoid Traps
No matter how much work or how many resources you put into your company's cyber security, all your efforts can be undone when an employee clicks on the wrong email link. Phishing has become a prevalent cyber security threat which can have a major negative impact on your company. That's why many managed service providers offer end-user cyber security training.
At CoreTech, we provide training content and tracking that allows you to see which users have completed the training, which is ideal for businesses with regulatory compliance requirements. Training sessions are designed to be interactive with questions at the end to test users' knowledge. In addition to that, we conduct phishing testing. Fake malicious emails are sent out asking for personal information which track who falls victim to the request.
End-user cyber security training becomes all the more important as new phishing techniques are developed. Making your staff aware of different phishing techniques and teaching them to be more vigilant about what emails they respond to and links they click is an important part of cyber security for your business.
Protect and Store Your Data Properly
Managed IT security services can also help your business manage data backups, which are not only an important part of disaster recovery but also best practice for minimizing data loss. The most prevalent security breach is ransomware, which is only getting more sophisticated. The ideal outcome in this situation is that the company does not have to comply with the ransom but instead restores their data from a backup. It is important for companies to have good backups that aren't exposed to the encryption that occurs with a ransomware attack. MSPs can help make that happen.
Not only will an MSP assist you with backing up your data properly, but they can also help make certain that users don't have more access than they should. Many companies give all employees access to all data as a default, even data that is irrelevant to their job that they will never look at. But this only increases exposure to potential threats. By limiting data access to just the information each employee needs for their job, you are also limiting your exposure.
Minimize Impact After a Security Breach
Even if you put every effort into preventing a cyber security attack, there is still the possibility of experiencing a security breach. When you have a managed service provider supporting your IT management, they are going to have established security response plans in place with specific steps to take in the event of a breach. Your MSP knows how to identify the threat, quarantine it, document it, retain and maintain evidence and take steps toward recovery.
Ultimately, the risk of data loss is still on the business, not your MSP. That's why it is important for small to midsize businesses to have appropriate cyber security insurance and a certain level of awareness about the security systems in place. However, with an MSP, you have an expert on your team who will be there to guide you through a recovery process.
Ensure That You Are Protected from the Latest Threats
It can be hard for small business IT managers to stay up to date on the latest threat techniques and cyber security trends, especially if they are also taking care of day-to-day IT operations. However, your managed service provider has a team of IT security experts who are responsible for staying informed about emerging cyber security trends and the products that can help your business combat them.
Want to learn more about how IT security can enable you to protect your business from new threats in the new year? There's an ebook for that!
Download our book Latest Innovations in IT Security: 2020.