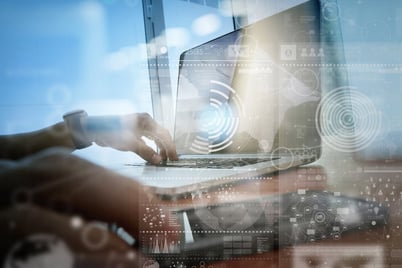 Ransomware is malware that infects a system or network and either locks the device or blocks off files until business owners pay a ransom. Ransomware and data breaches can be catastrophic to a business that doesn't take proper security measures and is vulnerable to attack. They are either crushed by the financial loss of downtime or by the permanent loss of confidential, sensitive data – data that could be sold on the dark web or used to harm customers and employees.
As the threats of ransomware are growing, preventing ransomware attacks is becoming harder for small businesses. In 2021, there was a 13% increase in ransomware attacks. The growth is partly due to the cybercriminal gangs' move to a franchise model where they license the technology to other hacker operators to use, thus widening their footprint. The new cybercriminal organizations are increasingly able to act with precision, maximize damage, and weaponize the data captured.
Ransomware is a grave threat to small and midsize businesses (SMBs) who don't have the resources or the expertise to protect themselves against it. SMBs can protect themselves with the help of an IT support provider, the right tools, and education on best security practices. Here are guidelines to follow to prevent ransomware and protect your business.
Backup your files
Back up your files, not just once but at least twice, using two different types of storage. So, you still have a backup if one system goes down or is corrupted. Cloud-based systems are ideal because they are off-site and provide a layer of protection against physical damage, such as a fire. Automate your backup system, so a backup is never missed, and set reminders to verify and test your backup files to ensure they are available in the event you need to retrieve them.
Update operating systems (OS) & software
When OS or software updates are issued, it is because the developer found a performance fix to correct or a weakness in the application that needs a security update. Reviewing and installing updates when they are released is vital to keep your systems secure. Keep up with important updates by setting them to download automatically, or utilize an IT support provider to provide updates and patch management services as a part of their monthly ongoing service to your company. In addition to securing your devices and network, the updates help increase performance.
Use multi-factor authorization
When you use a multi-factor authorization (MFA), the user must verify their identity before they are given access to the system. It adds another layer of security, blocking out scammers who are attempting to access your system. If the user's login credentials are leaked, the security protocols will record the hacker's attempt and stop them from breaking in.
Limit privileges
Most of your employees only need access to a select portion of your network. For example, your sales team doesn't need access to your accounting files or system. Limit the privileges of all employees so they cannot access areas irrelevant to their job functions. Doing so protects your system from internal theft. And if an employee's login credentials are stolen, the thief can only access a small portion of your system instead of accessing all your data.
Monitor email activity
Emails are the cyber criminal's favorite tool. They use them to deploy phishing schemes and to send malicious attachments or links. You can use email security tools that will block suspicious emails, but the layered security services provided by your managed service provider will be more comprehensive. For example, not only will your MSP use a best-in-class email filtering tool, they can set up email encryption to keep confidential data sent through email protected. In addition, IT security providers monitor endpoint devices so that suspicious activity generates an alert which is reviewed by staff at a security operations center (SOC).
Educate your employees
A Stanford University research study found that 88% of security breaches are caused by an employee's mistake. Cybercriminals are skilled at duping end users into clicking on a link that will launch malware or ransomware. Providing regular education to your team and occasional testing keeps your employees alert. They will be less likely to be tricked by a scammer and become an essential layer of security within your business.
Protect your business
When you work with the right Omaha IT service provider, you can receive valuable insights into your network and learn how to increase the security stature of your business. At CoreTech we take security seriously; it is at the heart of every service we provide to small and midsize businesses. Call us to schedule a free consultation to determine how we may be able to protect your business from ransomware.