Productivity in the workplace is an often-discussed subject, and no single solution exists for every situation or scenario. Luckily, there are numerous tools available to help your organization make work as straightforward and streamlined as necessary. And when working remotely, as many organizations currently are, clear, succinct information and processes should be at the top of everyone's mind. That's where Microsoft's collaborative hub, Microsoft Teams, comes into the equation.
You've likely struggled with how to keep your team connected and communicating. With Microsoft Teams, you can do all of this—and more—to make sure projects are getting completed and objectives are being met, no matter your employees' location. Maybe you've read some about Teams or even experimented with the interface. In this post, we'll cover the important areas of the interface and some helpful features that aren't commonly discussed.
Getting Started
Accessing Microsoft Teams is easy. If your organization uses Microsoft 365 (formerly Office 365), you already have the application at your fingertips. All you need to do is log in and you're set!
Don't have an Office 365 account? Microsoft is offering a free version of the application to everyone during the COVID-19 pandemic. You just need an email address to access the application.
What can I do with Teams?
Teams is a collaboration tool, which means you can use your favorite Microsoft applications like Word, Excel and PowerPoint for real-time group projects, editing and communication. Teams keeps all that work organized in topical categories, all in one location.
The real beauty of Teams is its fluid integration with the rest of Microsoft 365, and you can save files directly to your OneDrive account.
The Teams Interface
When reading about Teams and using it for the first time, the application can feel overwhelming because there is so much information—and just as many capabilities. However, the interface is simple, efficient and intuitive.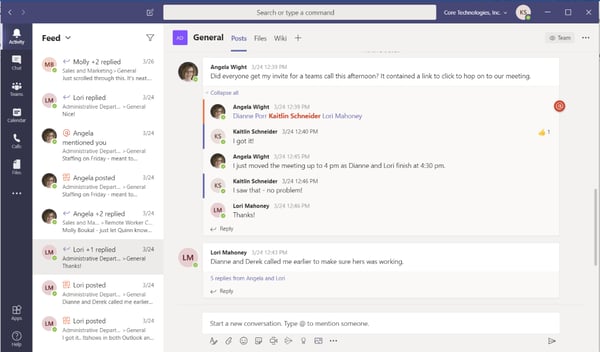 Microsoft Teams is split into sections, and you can see what the interface looks like above. If you are using Teams for the first time, you may not have all the tabs shown on the left-hand side of your screen, so it may look slightly different.
Each section along the sidebar, including activity, chat, teams, calendar, calls and files, offers unique functions to help your employees stay organized and keep your business productive.
Activity
Starting at the top left, the Activity tab details what your contacts have been up to, including things like replies to threads, mentioning your name in a post or that someone else has posted something to a team you are in. This is a good way to keep track of what is occurring within your Teams interface, and you can search through the activity by clicking on the "Filter" icon at the top.
Chat
Communicate in real-time with the chat feature. This function is great for 1-on-1 communication, but you can also create group chats for projects, so you don't clutter your other Teams feeds. Or, if you have smaller tasks that don't require creating a larger Team, you can use a group chat so you can easily communicate ideas and keep it all in one place.
That's one of the great things about Microsoft Teams. It keeps your information topical and organized, saving you the time and effort of searching and digging for the latest updates.
Teams
The hub's titular feature, a Team, enables you to organize conversation around a particular group of people and topic. For instance, I am part of two Teams: "Administrative Department" and Sales and Marketing. Each of these Teams is then split into channels, which are located below the Team title, allowing for topically categorized communication about ongoing tasks, meetings and projects.
You can create Teams for any topic, and within them, people can post textual updates, links, or files. Then, team members can respond and all conversation for that project is available and searchable for everyone, without having to rummage through countless email chains. When you're finished with a channel, you can hide it by right-clicking on it, keeping the space clear for new or upcoming projects.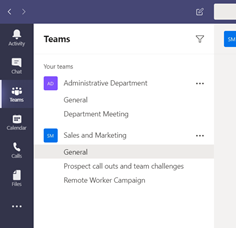 Teams sections are also organized with tabs across the top of the screen, as seen below. For example, if you would like to keep primary files at hand for a project, you can save them under the "Files" tab, and they will be easily accessible—plus, you can edit them directly in Teams. Once you have finished making changes, Microsoft Teams automatically saves them.

Calendar
Within the Calendar tab, you will find your Outlook calendar, which automatically syncs with Teams. From this calendar, you can join video calls or meetings by simply pressing the "join" button at the time your meeting is supposed to start.
And, if you have push notifications enabled, you will receive a notification whenever one of your team members starts a meeting. To join yourself, all you have to do is click on that notification and Teams will open the audio or video call.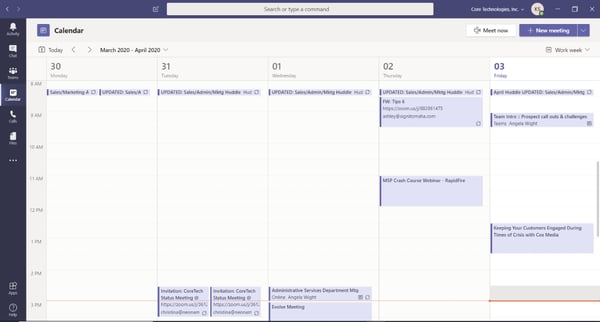 Files
Your files tab includes your OneDrive storage, and you can choose additional cloud storage such as Google Drive, DropBox or Sharefile. This tab gives you instant access to your cloud files, which means you won't have to shuffle through numerous windows to make changes or communicate with your teammates.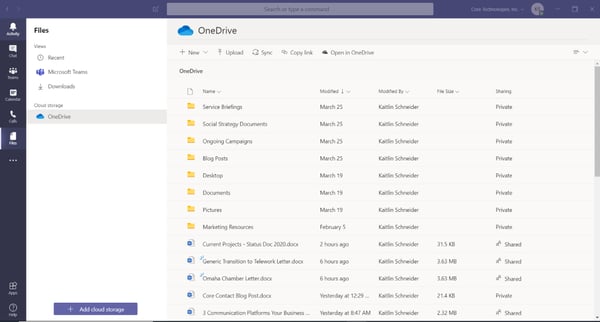 Take Teams Further with
these
Tips
Bookmark specific posts or messages by saving them. This will flag them, and you can find your "Saved" list by clicking on your profile image in the top right corner.

Give your group chat a title so you know exactly what you need to communicate and where to do it.

Autogenerate transcripts from your recorded video meetings. You can also add captions to your video meetings, in real time.
Ready to get started? CoreTech can help.
Whether it's for project management, organizing meetings or discussing progress 1-on-1, Teams is an ideal solution for increasing communication and productivity within your business. There are unlimited ways to utilize this platform in your day-to-day operations.
Contact us today to learn more about what Teams can do for you or setup custom training for your team!