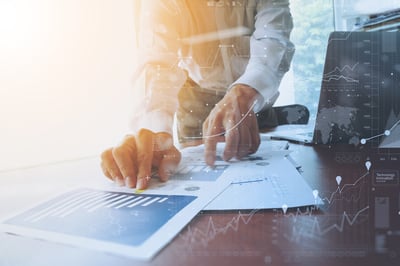 Customized software applications are now available for small business owners at sustainable costs. Automating some of the tasks and procedures increases productivity and profit margins. It gives small business owners a competitive advantage when going up against their larger industry counterparts.
New software applications allow small businesses to pivot faster than their large-sized competitors. The successful adoption of technology was most noticeable during the pandemic. Affordable and easy-to-use software applications enhance business operations and run more effectively and efficiently. New software applications allow business owners to make changes quickly, improving their business management.
Applications
AI data-driven insights
Many Artificial Intelligence (AI) applications are currently available for small businesses. Some of the essential AI applications are those that provide data-driven insights. If small business owners can predict trends in sales and services, they can prepare to build revenue streams in those areas. It can be difficult for small businesses to collect enough data and analyze it to find upcoming trends. In contrast, AI data-driven insights provide results in real-time. The implications can be transformative for the business.
Using AI, data can be collected, analyzed, and interpreted at a speed and granular level that isn't humanly possible. Many of these systems include machine learning (ML), which becomes more intelligent and intuitive to the business's specific needs as the program continues to be used.
Applications providing AI data-driven insights can save money by reducing waste while simultaneously growing revenue in profitable areas. The insights may reveal opportunities where separate roles can merge, creating a leaner and more efficient staff. Or the insights may inform products, inventory, or services that can be reduced so the business can put energy and resources into more profitable areas. AI data-driven insights can also suggest improvements for efficiency, a place where small changes can make a big difference.
Unified Communication
A unified communication and collaboration system is a one-stop hub for all communication in and outside the organization. By taking advantage of VoIP (Voice over Internet Protocol), your business increases the accessibility and flexibility of calls and adds video conferencing, emails, texts, and other communication tools.
Unified communication applications allow staff to share files, converse through chat, and start a video conference without switching applications. The application creates an efficient and engaged team because they can communicate through any computer or phone anywhere in the country with an internet connection. They can also move calls from their desk phone to cell phone or eliminate the desk phone when using a softphone on their desktop for all their phone functions.
Chatbots
Chatbots improve the customer experience by providing 24/7 access to answers to their frequently asked questions. When the staff isn't tied up with minor customer service requests, such as return policies, they can focus on tasks that require more time and attention. Chatbots also collect data for lead generation and enable customer conversion.
Applications that integrate a company's various systems into one unit, where data is automatically transferred and authenticated, are possibly the best tools for increasing efficiency. It reduces manual labor and data entry into multiple systems and ensures that all systems' information is up-to-date and accurate. The more integration your business builds, the greater transparency between departments because everyone is working with the same data and system where all data is centralized.
Steps to take
Decide which applications are best for your business.
Small businesses now have ample resources and a wide variety of applications to choose from to improve their business. The question now is deciding which ones are worthy of your investment. Omaha IT consultants work with numerous applications for the different companies and industries they serve. IT professionals can help you identify the strengths and weaknesses of other systems and the practical ways the application will benefit your business. Even if they do not have hands-on experience with a particular application, they have the tools and resources to analyze it correctly and test for individual clients' needs. Reach out to your Omaha IT consultant and let them make the process easier for you.
When analyzing the different applications available, it is crucial to consider each system's reporting. It is also essential to know how you can obtain data from the applications.
Optimize your technology
To optimize your technology, it is crucial to make decisions based on data. Before investing in a new system, you may need a tool to pull and aggregate the data from your current applications. It may be more efficient and cost-effective to leverage your existing technology with add-ons instead of investing in an entirely new system.
Most importantly, anytime you change your technology, you want to ensure it solves a problem and benefits your customers. Communicating the problem and solution to your staff and customers will allow for a smooth transition. However, you will still need to train your staff and customers to use the new technology. Otherwise, they will fall back on old habits, and your investment will not reap the intended rewards.
Level up with confidence
CoreTech is Omaha's leading IT support provider. With a team of skilled professionals, they can help you find the applications best suited to your business. Schedule a time to discuss how we can help you level up to beat the competition.