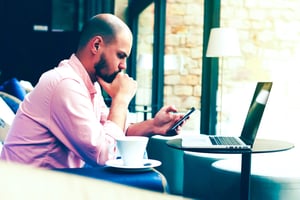 Over 46% of companies are increasing their IT budget to invest in Unified Communications (UC). But, why? If so many businesses are convinced UC is the right place to invest their money, there must be some compelling reasons.
So, let's take a look at your business. What are your goals for the coming year(s)? Are you looking to improve productivity, efficiency, collaboration, customer service or client retention? Is your business currently growing or adding options for remote work? If this sounds like the vision you're working toward, UC could provide the tools you need to get there.
Unified Communications is all about making it as easy as possible to communicate and collaborate. Integrating voice, video, chat and data all into one solution allows users to communicate in real time, even when they're not at their desk.
With features like direct call forwarding, routing and twinning you can ensure that callers either reach their intended recipient, regardless of their physical location, or reach someone within the same department that may be able to assist. Presence allows users to see who is available to speak and who is not, regardless of their location. These features make it easier to provide better customer service without keeping the caller on hold for extended periods.
UC is also great for collaboration among staff members. For instances when you need a quick response, but your coworker can't take a call – they may be able to send a quick response through chat. In contrast, sometimes an instant message or a phone call isn't good enough. With more complicated conversations, it helps to be able to speak face-to-face. But if you are unable to physically meet up, video chat is a great, time-saving alternative. Selecting the right avenue for communication can make reaching a resolution more efficient.
Additionally, the capability of integrating your communication system with other third-party tools – such as your CRM – gives users access to the information they need, right when they need it. With this integration, you are able to have client information from your CRM automatically populate on your computer as they call. Not only will this help you offer a more personalized approach to your clients, but with instant access to the information you need, you're set up for a more productive conversation right from the start.
If your business is looking to improve customer service, collaboration, productivity and more, give us a call or send us a message today. We can take a look at your current business processes and discuss the ways in which a customized UC solution will fit your needs.