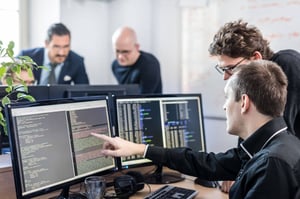 Your business is growing, but is the backbone of your organization—your IT—keeping up?
Growing businesses require technology that evolves with them. Without it, they fall behind the competition.
If you're having trouble keeping pace with the demands of your industry or need help keeping your IT online, fully outsourced IT support could be the answer for you.
First thing's first: what
is
fully outsourced IT?
Outsourced IT involves hiring a technology service provider, such as an managed service provider (MSP), to deliver IT services and solutions. Fully outsourced IT refers to outsourcing all aspects of your IT management and maintenance to a provider.
Outsourced IT service providers offer support for numerous aspects of your technology, including:
Network and device monitoring

Managed maintenance

Troubleshooting and emergency support

Data backups

Reporting and consulting

And more!




Why should your business consider fully outsourced IT support?
Keeping up with the demands of your business on top of your IT operations is a huge responsibility. It eats up a lot of time and resources. And, when you first started your business, internal IT might have been the right way to go.
However, with a growing business, you'll find it difficult to keep up with the demands and the ever-changing technology industry. Security threats are increasing, your tech stack is more complicated, and your industry is more competitive than ever.
All those things mean increased expenses, more time spent, and greater headaches for your company.
Let's tackle each of those, and discuss how outsourced IT can help.
Increased Expenses
A more sophisticated technology stack, like the one required for a growing business, involves continuous maintenance and management. Someone must ensure those machines are running optimally, secure from IT security threats, and regularly backed up.
Internal IT costs a fortune in salary and benefit packages, and requires you to complete the entire hiring process, which eats away at time you could spend on your core business, instead.
Outsourced IT support cuts your expenses significantly, allowing you to invest your money where it matters most.
More Time & Focus Spent on IT
A growing IT configuration, and one managed internally, requires not only a significant financial investment but also more time to manage, monitor, and maintain. The time dedicated to your systems, networks, and devices could be better spent on making sales, increasing brand awareness, or anything else to improve your bottom line.
And if cyber security threats are keeping you up at night, that's an even greater investment requirement.
IT outsourcing tackles the work for you, allowing time back in your schedule to focus on the most important aspects of your business.
Greater Headaches for Your Company
IT is complex, with a lot of moving parts. It's difficult for one person to stay up to date on the latest updates and best practices, and sometimes skill sets don't exactly match up to your needs.
If you find your IT falling behind or causing problems for your business, IT outsourcing can save you from those headaches—and decrease costs.
What else will you gain from fully outsourced IT support?
In addition to saving time, money, and effort, you'll also gain access to an entire team of technology experts who want to help your business succeed with the right technology. These IT professionals make it their life's mission to stay updated on the latest technology and the best ways to manage it.
In fact, the best outsourced IT service providers regularly complete individual and company-wide certifications, as well as attend trainings and industry events to stay abreast of industry changes.
Why might your business keep IT in house instead of outsourcing?
Fully outsourced IT isn't the answer for everyone. Some businesses prefer to maintain more control and visibility of their in house IT resources, and outsourcing requires letting go of some of that control to the service provider. Both options are workable, however, if your budget allows, in house IT may be a good choice for you.
Another reason to keep business IT within your own organization is because you want to limit the amount of access to your company data. However, outsourced IT security offers more robust, comprehensive solutions for data security than most current business configurations.
Are you looking for an outsourced IT service provider?
Whether you're a lone IT manager tackling the never-ending stream of IT tasks, or you're a small business owner who wishes they could get back to working on moving the needle instead of working on IT, outsourced IT support can help.
Plus, fully outsourced IT isn't the only option. IT service providers can take on as little or as much as you would like them to in a managed services contract.
Only need data backup services? That's fine.
Just concerned about IT security? They can handle that, too.
To learn more about outsourced IT support, visit our "Outsourced IT" page to see more about how a service provider can help you.