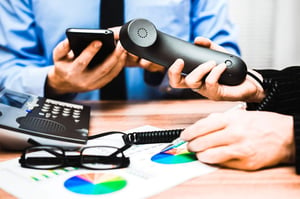 Cloud technology is becoming more prevalent in small and midsize businesses. Not just in regard to storage or hosted IT applications, but in regard to phone systems as well. Cloud-based, UCaaS or "hosted" telephone systems are certainly rising in popularity. So, are they the best fit for your business? Read on and we'll talk about some things to consider.
What is the difference between an on-premise phone system and a cloud-based system?
An on-premise phone system is one that is comprised of a server and telephones (either digital or VoIP) located physically at your site. Typically, on-premise systems require a substantial capital investment up-front. Also, since you're the one who owns and operates an on-premise system, upgrades, maintenance and expansions are your responsibility. Dial tone will be provided by a local telco, sip trunk provider, or cable company, and monthly payments will be made for this service. Many companies prefer to own their equipment as this allows them to maintain control over everything from the network infrastructure to the features offered to phone system users.
Cloud-based or hosted phone systems are, traditionally, larger phone systems housed in data centers. These large phone systems are then divided into smaller systems which are used by subscribers. The only equipment that's on-site at your business are the IP telephones and the PoE (Power over Ethernet) switches to power the phones and connect them to the network. The on-site phones connect to the cloud-based phone system via the internet. Depending on the provider, there may or may not be any up-front costs such as setup fees or activation fees. The per-seat pricing is an operational expense rather than a capital expense and can range anywhere from $19.95/seat- to $34.95/seat-per-month, or more, depending on the provider and the features included in the basic package.
So, what are some things to consider when deciding which solution would work best for your business?
Cost – Even though on-premise has a higher up-front expense, it may be the less expensive choice when considering the price of a cloud system over the course of 5-10 years.
Scalability – On-premise systems can be sized for anticipated growth but you're paying more up-front for capacity that you may not end up using. Expanding your on-premise system can involve an expenditure for an additional cabinet, cards or licensing on top of phones. Cloud-based systems are able to add or subtract with less disruption and no up-front costs.
Mobility

–

Most UCaaS systems come with "built-in" options for staff spread across multiple offices, remote workers or mobile users.

Field sales or service staff can use an app on their mobile device to communicate as if they are in the office. This functionality often times requires additional costs and can be complex to implement for on-premise systems.
Additional Feature Costs

–

Many cloud services include simple options for high-end features like call recording, collaboration features, secure instant messaging or presence. Adding these options to on-premise systems can cost thousands of dollars to purchase and maintain.
Network Readiness – Is your network able to support VoIP? Is your cabling at least cat5e? Is your internet bandwidth sufficient to support both voice and data? Can you prioritize voice over data? Most new phone systems or hosted services will require a solid network for good voice quality.
Flexibility – Cloud-based systems don't always allow a lot of customization and you may need to take an offering "as-is." You may have more control with an on-premise system, that you own.
Reliability/Availability – Whichever system you choose it must provide you with reliable phone service and consistent, accessible customer service for when there are problems.
When it's time to explore a system upgrade, the most important thing is to select a trusted technology partner to help you navigate new technologies and services as they become available. We can help you to select the choice that best suits your company's needs.
To speak with one of our Business Development Managers give us a call or send us a message today.