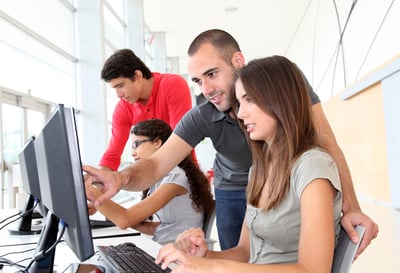 Organizations spend $150 billion a year globally on cybersecurity products and services. Yet, statistics show that phishing and other cyberattacks increase exponentially, with an estimated damage of $10.5 trillion annually by 2025, a 300% increase over a decade. A significant reason for this alarming situation is that employees need training to recognize and stop what is happening. Vulnerable and uninformed employees leave an easy path for malicious actors to infiltrate your organization's meticulously guarded network and data assets, regardless of the security products you have installed in your systems.
Cybersecurity training educates employees, vendors, and contractors, so that they know basic cyber hygiene, cybersecurity best practices, and security policies. By training your employees, it ensures all employees can:
Identify an incident
Know what procedures to follow if they are attacked
What threats they must look out for
And whom they must report to if they notice anything suspicious
Why don't employees apply cybersecurity best practices?
A Tessian Research Study says that one-third of employees do not understand the significance of cybersecurity. The report further states that 42% of employees are unaware they have caused a cybersecurity incident, whereas 25% don't know why cybersecurity is essential. Lack of knowledge or awareness among employees can put your business at risk. This could lead to unauthorized access to susceptible and valuable information assets, resulting in financial losses and damage to your reputation.
Depending on the level of cybersecurity awareness, you can categorize employees into the following five types:
The Unconsciously Incompetent – These employees are novices who are inadequately informed about the basics of cybersecurity. For example, they are unaware that clicking suspicious links or downloading malicious attachments can lead to security breaches.
The Consciously Incompetent – Consciously incompetent employees know the perils of cyberattacks but are clueless about how to avoid them and what actions to take if they ae ensnared.
The Consciously Competent – Employees in this category know how to identify signs of a cyberattack and handle them with the help of knowledge sources. They require proper guidance and direction from the cybersecurity training staff.
The Unconsciously Competent – Here, the employee is competent enough to identify and deal with cyberattacks efficiently. They will be fully knowledgeable about the steps and procedures to follow and whom to report to in case of a cybersecurity incident.
The Master – The master-level employees who are fully aware of cybersecurity best practices can even teach fellow employees how to identify and deal with a cyberattack.


An employee's journey from an unconsciously incompetent one to becoming a master takes time, consistent reminders of best practices, and adherence to enterprise security policies.
How to communicate cybersecurity best practices effectively
As a responsible cybersecurity professional, your objective is to enhance cybersecurity awareness levels among employees and bring them from the 'unconsciously incompetent' to that of the 'unconsciously competent' or 'the master.' To accomplish this, you will want to reflect on the two questions below before taking the next steps.
Is your communication clear and consistent? – Create a culture that prioritizes security and communicates its importance. Create situations which encourage employees to learn about cybersecurity and the consequences of cyberattacks. Improving your communication methods also minimizes misinterpretation of company policies and provides a better understanding of what the employee must do in the event of an attack. A well-informed employee can protect the organization's network and data, which contributes to less downtime, money saved and increased productivity.
Is there a sense of accountability and transparency concerning cyberattacks? – Executive management and the board must know whether employees understand the impact and the consequences of cyberattacks on their organizations. Your job is to create a level of awareness and a culture where employees feel responsible for not performing any action that can lead to a cybersecurity breach.


Once you have considered how you want to implement communication and accountability, develop your training with the tips below:
Avoid ineffective and inefficient training tools and solutions: PowerPoint (PPT) presentations and classroom lectures may not be sufficient because employees do not take them seriously enough. The Tessian Security Culture Report 2022 has shown that 64% of employees do not pay complete attention to the training, and 36% find it uninteresting. Switching from presentations to alternative mediums will keep your employees engaged and present during the cybersecurity training session.
Effective communication is the key: Effective communication is critical to ensuring every employee is adequately educated and trained in necessary cybersecurity strategies. Every leader must know how to effectively impart cybersecurity knowledge to employees, empowering them to fight cybercrime and protect the organization's assets. It will help you keep your organization's valuable information assets' confidentiality, integrity, and availability intact.
Customize learning for employees: One of the best ways to assess employees' knowledge and awareness levels is to engage with them in a way that is comfortable for them and related to their daily operations.

For example, some employees enjoy discussing real-life examples or case studies of cyberattacks. In contrast, some prefer simulation methods, such as mock phishing drills, to prove their competence by detecting it and taking corrective steps to avoid undesirable consequences.

All these cybersecurity training methods ensure the training doesn't go to waste, and the employees retain the information.
Consolidate the knowledge: You can organize meetings and webinars, arrange email campaigns, set up posters, and use other means of effective communication with employees to drive home the importance of maintaining cybersecurity best practices.
Lead by example: Executive leadership will want to lead by example. Adhere to cybersecurity best practices to ensure your employees follow them. Leading by example is vital to correctly convey the message and instill a sense of responsibility in the employees.
Seeking help from experts: Is your company able to deliver robust cybersecurity policies and impart high-quality cybersecurity education? You may look at your packed schedule and find it difficult to make time. An efficient and effective alternative is to seek assistance from managed service providers (MSPs) who can help train employees on cybersecurity at the most advanced levels using the proper communication channels and strategies.
What expertise do IT providers offer?
At CoreTech we offer tools and training that delivers high awareness and effective communication channels. For your organization and employees, we provide:
Updated knowledge of cybersecurity threats and trends, such as the latest phishing, ransomware attacks, and social engineering attempts. We take pride in providing awareness to empower employees and help prevent cyberattacks.
Exhaustive cybersecurity training modules cover all the necessary topics to create maximum cybersecurity awareness. They include mobile device security, password best practices, Multifactor authentication (MFA), and the knowledge to address phishing and other threats.
Access to CoreTech blogs for employees to learn about the latest cybersecurity trends and developments.
Deliver phishing simulation exercises that create awareness of phishing and test employees on identifying phishing emails, which is the most common cyberattack vector used by threat actors.
Protect your organization and its assets
The consequences of ignoring employee cybersecurity training can be dangerous. And every organization must handle it effectively to protect its information assets. Effective communication from senior management is essential for building a robust cybersecurity culture and imparting the importance of protecting the organization and its employees.
IT service providers such as CoreTech offer customized training solutions to elevate cybersecurity awareness for employees, using the most effective tools and strategic methodologies to combat challenging cyber threats. Contact us today about implementing a cybersecurity awareness program.
Additional Resources