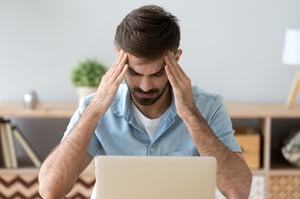 Not every disaster that wreaks havoc on a business has to be a major natural event like a fire, blizzard, flood or tornado. Even something as simple as accidental deletion or one wrong click on a phishing email could instigate a disastrous domino effect in your organization.
And it's not just your company's revenue that is impacted by downtime. There are other ways that unplanned IT downtime can impact your business, including:
Data loss

Lost productivity

A

damaged

reputation

Actual costs of recovery



Let's talk about the ramifications of each and how a proactive approach will help your business.
Data loss
System downtime, for instance server failures, carries the risk of data loss or corruption.
Depending on the nature of your business, this can have a huge impact on your day-to-day operations.
For instance, what if you run a medical practice and have weeks of appointments booked with patients—then one day, your server goes down, and you can't access those records? How do you intend to serve your patients if you can't log in to your database and see those appointments?
Lost productivity
Today, so much of what you do involves online communication and service. Anything from email to chat to client databases and cloud-based applications requires a network connection. Without it, the gears of business grind to a halt.
And in most cases, companies still have to pay employees even if no work is being done, which puts an even greater strain on your company's bottom line.
Reputational damag
e
When your company goes offline, you're unable to service customers or seek out new business. If your current customers don't receive their intended products or services, it's possible that you could lose part of your customer base.
And if customers can't rely on you, your reputation suffers due to broken trust.
Reputational damage is a long-term consequence of downtime, and it's difficult to restore trust if customers not only have a poor experience, but also share that experience with their peers.
Recovery costs
The total cost of recovery depends on the actual cause of downtime, but you should never underestimate it. Sometimes, it only takes a few moments to get your business back online. Other times, it can take weeks.
And if your hardware fails completely, you'll have new equipment costs to consider, too.
Curious to see the estimated cost of downtime for a particular scenario? Check out Datto's downtime calculator!
How can a
proactive approach
to IT
help
keep your business online
?
No business wants to experience the chaotic domino effect described above. Having your business knocked offline for even just a few minutes can heavily impact your bottom line—and more.
Fortunately, by having some appropriate proactive IT strategies in place, you can avoid stumbling through extended periods of unplanned downtime.
Do you have questions about a proactive approach to IT, business continuity planning, or managed IT services?
CoreTech's team has over 20 years of experience in providing proactive IT support, and when you partner with us, you'll know that your business is in good hands.
Our comprehensive array of IT services can get you out of a reactive break-fix loop, and our planning services can help you formulate strategies to bounce back, should any incidents occur.
And, we'll help you keep it all secure from cyber threats. Contact us today for your free consultation and learn how a proactive approach to IT can help your business.
---
Learn the 4 essentials of an effective business continuity plan. Download our eBook today!