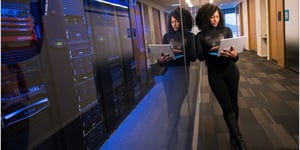 Every business requires careful planning for success, especially when it comes to disasters and major events. But what do all of the terms, like business continuity, disaster recovery, and data backups, actually mean? What are the differences between them?
In order to form an adequate response plan for your business, it's essential to understand the differences in these three closely related topics so you can best prepare your business for any scenario.
In this post, we'll define these three terms:
Business Continuity

Disaster Recovery

Data Backups



We'll also discuss why your business needs each of these components for a successful IT infrastructure and plan, and how a managed IT service provider can help you handle each component.
What is
B
usiness
C
ontinuity?
Business continuity is your organization's plan for responding to a major event. This takes a holistic view of your organization and all its working parts. When considering your organization's business continuity, you'll need to look at your systems and processes to determine what is crucial to continuing operations. Focus on the big picture and risk management here.
To start with, you'll want to look at these four areas:
Employee Well-being

Customer Communication

IT Uptime

Keeping Business Operations Moving Forward



For more on each of these areas, read this recent blog post on key questions to ask when forming your plan.
What is Disaster Recovery?
Disaster recovery refers to your organization's technological infrastructure.
The efforts of disaster recovery should focus on the ability to restore access to company data and applications. Business continuity will cover some data accessibility, but not to a large extent.
It is a reactive process that takes place post-disaster, such as a flood, fire, or cyberattack.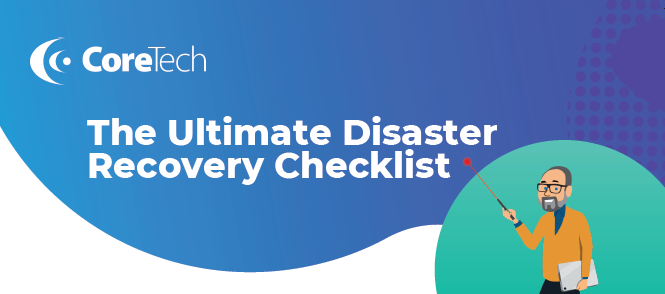 Do you need some help getting started? Download the entire checklist now!
What are Data Backups?
Your company relies on data to continue doing business, and to keep your data available in the event of a disaster, you need data backups.
Simply put, backups are copies of your data that are located somewhere else—local devices, in the cloud, or a combination of the two.
Ultimately, the location and specifics depend on your business needs, but every business requires data backups of files, databases, operating systems, applications and other configurations.
And, don't forget about your staff's mobile devices. They could have vital information stored directly on those machines, and your business needs to back up everything, such as documents, presentations, and other important files, often.
For more on how your business can back up its data, visit our Data Backup page.
All three of these components are closely related, and your business needs all three.
No matter the size, scope or industry of your business, you have to have a plan in place for the worst. Take the recent global pandemic, for instance.
According to Mercer in a March 2020 survey, more than half (51%) of businesses across the world had no business continuity plans in place to respond to the impact of COVID-19.
Of course, previous BC/DR plans didn't necessarily include pandemics in their lists of potential disasters to prepare for, but the businesses that Mercer surveyed had no business continuity plan at all! That puts their businesses at serious risk of increased downtime, reduced revenue, and potential dents in their reputation.
How
do
managed IT service provider
s
like CoreTech
help with
business continuity, disaster recovery
and data backups?
A managed IT service provider creates a tailored solution for your business, one that will provide complete data backup and recovery and allow you to run your business with complete peace of mind.
With a recovery solution and managed backups from CoreTech, you can safely restore or recover all of your files, software and functionality to as close as normal as possible in the event of a disaster.
Our expert team is here to protect your data and ensure smooth operations. Contact us today to request more information or to get started with your company's complete data backup and recovery solution.