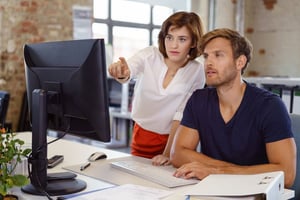 When your device (desktop, laptop, etc.) is giving you trouble and not performing the way it should, contact IT support. The goal of reaching out to your IT help desk is to get your questions answered and problems resolved quickly and painlessly, so your company isn't impacted from reduced productivity or prolonged downtime.
IT help desk technicians—or "techs"—for short, are here to help! We are also prepared to receive numerous requests for service a day to help our clients out of a jam. One thing you can do is bring the best information to us to quickly resolve your issue when putting in a ticket or giving us a call.
So, as an IT Systems Admin, I wrote up some tips and tricks on what you can check before you call IT support AND what information to include when contacting your help desk. As well, what types of questions we'll be asking you during the call.
What is the most important thing

you need

when contacting

your IT help desk

?
Information—as much as you can give us to clearly delineate the problem, so we can adequately resolve the issue. This is especially important in today's business climate, with more people working remotely than ever before.
Before dialing up or emailing IT support, go through these troubleshooting and fact-finding steps. Doing this will help gather additional information that IT support will need:
Are you plugged in?

Are the lights on your computer

currently on or off

?

Can you move your mouse or type on the keyboard?

What task were you trying to complete when the issue occurred?

What was the last thing you saw on the screen?

Was there an error message?

What did

it

say?
The more information we have in advance, the easier it is to jump in and help.
Now it's time to reach out to us. Here's what you can expect.
Start with the basics.

Who are you?
This might seem like a basic question, but it's important to the tech in getting a quick start to resolving what is happening and checking on a few systems before we call. Be certain to incorporate the following at the beginning of your call which helps us lay the groundwork before we jump into what is happening:
Name

& organization

Location

The c

omputer

or device

name and/or user
Once we have this information, then we can start right in on what you are experiencing.
Additional information and tips on working with an IT help desk:
Have you tried turning

your machine

off and on again

?
Why will you hear us say, "Have you restarted your computer?" The question may seem pointless—or even a waste of time— but it often catches bigger issues before they occur, which saves time and money in the long run.
We know restarting may take a few minutes, however, more often than not, it solves the issue you are experiencing.
How

do

I

contact

support?
The easiest way to reach the CoreTech support desk is by putting in a ticket from your icon tray. This will give us more information and allow us to do some initial research before we contact you.
From your PC, go to the icon tray in the bottom right hand corner. You may have to press the up arrow to access this tray. Once you have, find the CoreTech Icon.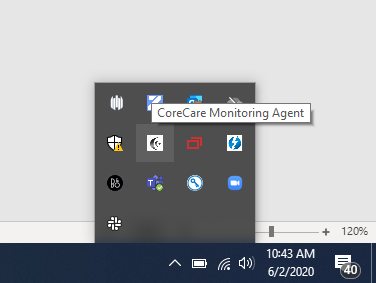 Click on the icon and select Create Service Ticket.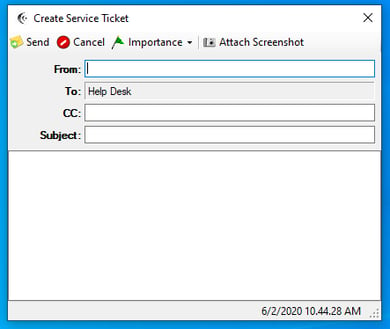 Select the appropriate level of importance and attach screenshots if you have any.
Also, if working from home or a different location than normal, you may not be near your normal work phone, so you'll want to include a direct number to reach you at as part of your message.
When you click on submit, your ticket will show up for all of available technicians to see. This ensures that the first one available will be able to help you.
As always, if submitting a ticket isn't possible, you put in a ticket by calling our support phone number.
Pro Tip!

Take screenshots.
Speaking of screenshots, they are not what they used to be.
You are no longer stuck with showing your entire screen, or worse multiple screens, when capturing error messages. Try a handy tool the next time you need to capture part of your screen the Windows Snipping Tool. You can search for it from the Start Menu on your computer.
If you have any questions about how to use it, you can learn more in one of our Quick Tip articles.
Once you've captured what you need, you then have options to copy and paste directly into a document or save the image to your computer.
We're here to help!
Looking for an IT help desk to support your company? Look no further! With CoreTech on your side, our team will make sure your business has access to the right technology at the right time—and we'll get it back up and running when things aren't working the way they should.
We are here to help and support you when you need it! To learn more about working with CoreTech's IT help desk, contact us today!
Need to put in a service ticket? Visit our client portal, submit one via your icon tray, email us, or give us a call. Our techs are ready to help you!