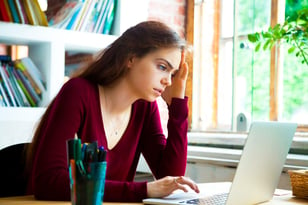 If you've ever experienced someone complaining about you sending them "nasty" emails that you never sent – you're not alone.
Some of you may have even received an email appearing to be from yourself, claiming that your PC has been hacked and demanding a ransom in the form of bitcoin.
In these situations, your email account may have been compromised. However, if you contact your IT support team and they are certain that your email is secure and has not been hacked, there is another possibility: email spoofing.
What is "email spoofing?"
Email spoofing is a technique spammers use where they forge the "From" address in emails to make them appear as if they are coming from another source.
Spammers do not need to hack into your computer or email account to spoof your email. The only thing they need is your email address. Unfortunately, this means there's not much you can do to stop it from happening – outside of discontinuing the use of email entirely.
There are, however, a few things you can do to reduce your chances of falling prey to email spoofing:
Your primary email is for you to communicate with people or parties you know. It's best to keep it that way. Do not use your primary email to receive coupons or advertisements.
Do not leave your email address when you post something online. If you must leave your email address on a public forum, use something like "username(at)mycompany(dot)com" instead of "username@mycompany.com." Spammers often use automated script to scavenge email addresses off the web. If your email address is not written in the standard format, it's less likely to be spotted by the script.
Do not use your primary email account for everything online such as LinkedIn, Adobe, Lowe's, Costco or even charity organizations. If these sites get hacked, your email address will become available to hackers all over the world.
Use a disposable email address when you sign up for mailing lists, website notifications, software trials or the like. You can simply delete the account if you notice it's being used by spammers.


Keep in mind that much of this situation is out of your hands. When you become a victim of email spoofing, it doesn't mean that you did something wrong. It's just an unfortunate risk associated with using email today.
If you believe your email account was compromised or spoofed, contact us today. We're here to help!