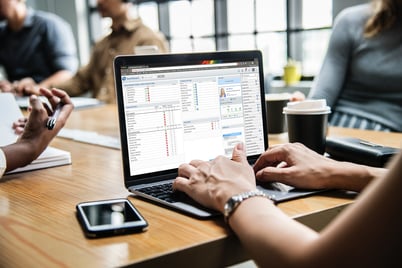 Today, CoreTech announced their partnership with Sangoma to offer small and midsize businesses Switchvox on-premise phone systems. This comes at a good time as many companies are transitioning to new phone systems as old systems go end of life, including TOSHIBA phone systems.
Why Sangoma?
After looking at other unified communication vendors, CoreTech chose Sangoma due to their superior service and high-quality support. Established in 1984, they have maintained strong customer relationships for almost 40 years. We are impressed with their engagement with new partners and the easy onboarding process they provided as our partnership developed.
Sangoma is not reliant on a third-party manufacturer for their products, meaning they are all produced in-house. This includes both the software and hardware. Sangoma is an end-to-end solution, providing direct, 24/7 support for their powerful product.
Why purchase Sangoma Switchvox?
CoreTech evaluates options for current and potential clients' phone system needs and recommends Sangoma's Switchvox for on-premise solutions. In 2021, Switchvox was awarded the Unified Communications Product of the Year from TMC for their innovative, unified communication products and solutions.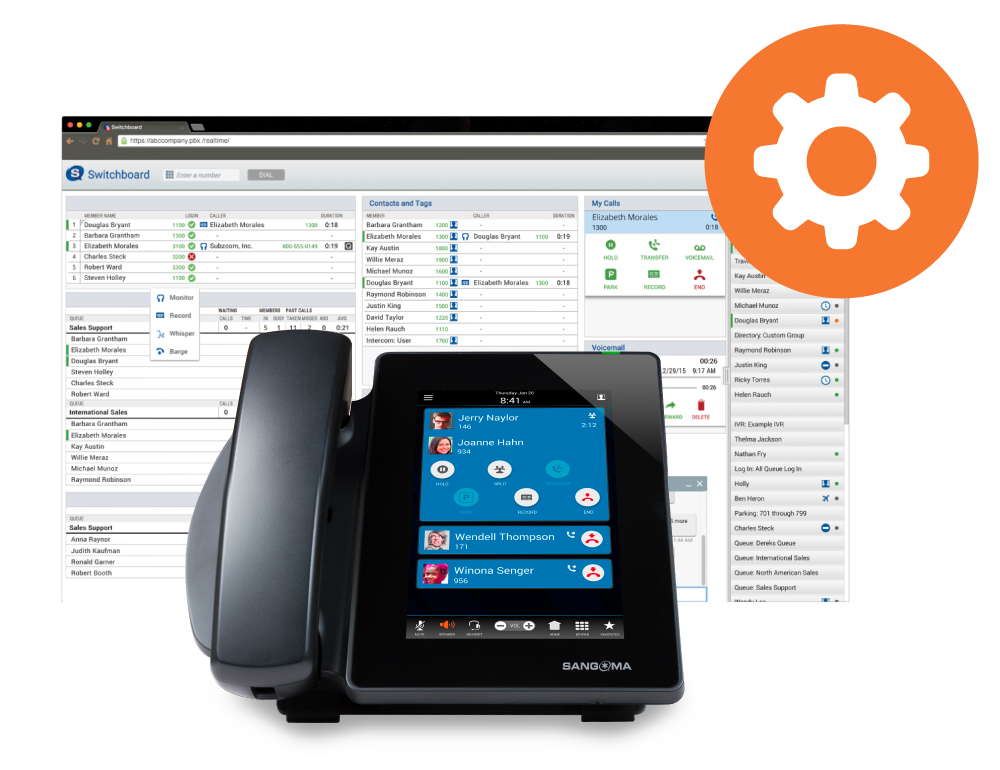 Switchvox comes with two options for on-premise phones. Employees can use a typical desk phone and keyboard for dialing and calling. Or, employees can choose a modern solution with the physical phone and attached tablet screen, allowing for more versatile organization and communication.
Switchvox systems come with numerous advanced features for their on-premise business phone systems, including:
Switchboard- A web-based interface that acts as a virtual operator panel to provide basic call controls, queue monitory, and communication functionality, such as transfer or record.
Mobile chat app- Employees working remotely can stay connected to the office by communicating through calls, SMS texts, or video chat.
Advanced call queue- Customers are put in contact with an employee as quickly as possible, with an overflow agent and queue callback for those waiting on hold.
Reporting- Administrators can visualize call-flow data through analyzing metrics, such as completed or abandoned calls and log-in times, and make staffing or phone system configurations as needed.
Integrations- Switchvox partners with business corporations such as Microsoft, Salesforce, Zendesk, Chrome, and Firefox, to ensure optimal productivity.


Switchvox maintains basic call features as well:
Call control- hold, transfer, conference, paging
Call management- Call forward, incoming call options, outgoing caller ID control
Voicemail and messaging- custom voicemail greetings, voicemail-to-email, unified mailboxes
Contact center- queue management and call reporting
Benefits of the Sangoma partnership
Purchasing a Sangoma Switchvox phone system is a capital expenditure for the business. The company may use their IT staff or technology service provider to manage their on-premise phone system. Switchvox also maintains flexibility that allows customers to transition from an on-premise to a cloud system if their business circumstances and needs change.
Purchasing a new phone system can come with retraining. Switchvox is easy to deploy, and Sangoma has a team on standby for support and installation services if challenges arise. System training materials are also available for both partners and their clients. CoreTech staff have now participated in vendor training to assist with any Switchvox-related issue.
Are you looking to upgrade an old phone system?
Switchvox's simple functionality and feature-rich capabilities allow CoreTech to meet clients unique needs for many situations they may have.
Do you have an old phone system which needs replacing? Give us a call, and we will provide an analysis to determine what platform makes sense from both a functionality and cost perspective. Contact us today for more information on Sangoma Switchvox or to find the business phone solution that fits perfectly for you.