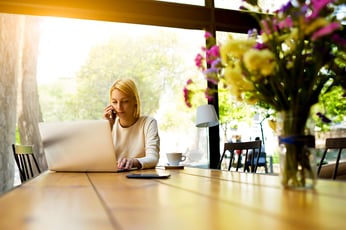 Whether they have a flexible work schedule or are frequently on the road, more and more of the U.S. workforce is working from somewhere other than their office. In fact, 3.9 million Americans are working from home at least half of the week. If you have a remote or mobile team, then you know how important it is for them to effectively communicate and collaborate when they are on the go or working outside the office.
One of the many benefits of hosted voice over internet protocol (VoIP) is that it makes it easy for organizations to communicate with coworkers as well as clients, no matter where their staff is working from. Here are just a few ways that cloud voice can completely transform how remote and mobile teams communicate with clients and collaborate internally.
1. With cloud voice, you can route calls to phones outside of the office.
Since the phone system is cloud based, businesses can route calls to any location, whether the phone is physically nearby or hundreds of miles away. This means that remote or mobile workers can take calls no matter where they're working from. Even if your receptionist is located in a physical office location, they can still easily and quickly route calls to employees who are out of the office.
If you don't have a receptionist or answering service, it's still easy to route calls directly to remote or mobile employees. The cloud phone system provides a direct number for each user. This unique 10-digit phone number routes directly to an extension — meaning you don't need a receptionist to transfer calls. Customers can reach the person they are trying to call faster, instead of waiting for an automated phone system or receptionist to answer.
2. You can connect to the phone system using a smartphone app.
Cloud-hosted VoIP is a great communications solution for mobile and remote workers because all it requires is a smartphone app to connect to the business phone system. Work-from-home employees can use the cell phone they already have to connect to the same great service and features offered by your cloud voice provider. This makes it easier for employees to work and stay connected to coworkers and clients even when they are away from their desk — or don't have a desk in the office.
3. The cloud voice system includes features like instant messaging and texting.
One of the greatest benefits of hosted VoIP systems is that they provide features that make it easier for remote or mobile staff to communicate and collaborate. One of those features is secure instant messaging (IM) between users. This is great for companies that don't currently have an IM platform in use. Rather than calling or emailing a team member, your staff can simply send a quick message, which is especially useful if they're on the phone with a client but need a question answered.
Another beneficial feature of cloud voice solutions is the ability to text. Some customers prefer text messaging to calling. With legacy systems, the only option was for employees to give their personal phone numbers to clients, which could result in after-hours contact. Now, employees can text using their direct number through text messaging applications through Mitel MiCloud Connect.
4. Cloud voice solutions integrate with systems you already use.
Cloud-based voice solutions also offer a number of useful integrations that help home-based or mobile employees work smarter, not harder. For example, Mitel Connect integrates with Microsoft Office365 and Outlook, allowing staff to call people right from their online contact list. It also offers integrations with Salesforce and other CRMs, ensuring that remote workers have the information they need about a client, no matter where they're answering from.
5. Cloud voice gives you more control over your phone system.
Cloud-hosted VoIP solutions give businesses more control over their phone system, which results in a better customer experience. For example, if an employee is out of the office for vacation, your business can route calls to an alternate person for the duration. This ensures that even customers reaching out to an unavailable employee can get their needs met immediately.
Cloud voice also makes the transition easier if employees leave the company. When businesses don't provide their remote or mobile workforce with a company phone system, then the customer often communicates with employees through their personal phones. This causes problems when an employee leaves, as the customer no longer has an internal business contact. Cloud-based VoIP services make it easy for businesses to re-route calls made to employees who have left to a new contact that can help the customer.
Transform Your Business with Cloud Voice
Now that you've seen all the benefits of hosted voice, it's time to take advantage of this solution for your business. CoreTech can help you find the right cloud voice solution for your company and handle all the details of managing this service for your remote workforce so that you can focus on your core business.
Contact us today to learn more about if a cloud-hosted phone system is right for your business.