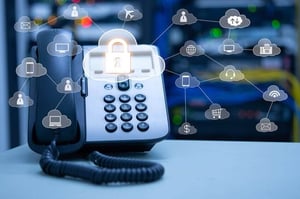 When it's time for your business to choose between an on-premise phone system and a cloud-hosted phone system, you'll want the most reliable, cost effective, and easy-to-use option that meets your business needs.
Depending on your situation and goals, cloud-based phone solutions may fit that bill — and they offer an array of benefits that could improve day-to-day operations at your organization. Here are a few advantages of a cloud-based phone system and how they can boost your business.
1. Ease of Remote Work
A cloud-based phone system allows you and your staff to make and receive business calls on your own devices, whether personal or company-owned, via an app connected to a business number. In addition to voice calls, conference calls and video calls, cloud-based solutions offer in-app features like instant messaging and texting so your team can stay productive when they're on the move or working from home. With a cloud-based phone system, all you need is an internet connection to seamlessly stay in touch with your employees, customers and vendors.
2. Business Continuity
If an on-premise system goes down, your customers have no other way to call your business. While you wait for someone with the right expertise to fix the issue, you are missing calls and losing business, not to mention dealing with frustration on both ends.
A cloud-based phone system, on the other hand, will be operational as long as there is an internet connection. Should the connection go down for any reason, calls can still be captured via call recording, voicemail or an automated attendant, ensuring continuity and connectivity.
Even if the phones in your office were to go down, phones that are located outside of the physical location, such as those that your remote workforce are using at home, would not suffer downtime.
3. Improved Communications with Customers
A flexible staff that uses streamlined communications means more efficient customer service. Your customer-facing teams will be able to take calls from anywhere and smoothly route calls to different people within the company, even at other locations. You can integrate cloud-based phone system apps with other cloud-based applications, which means your employees can toggle between tasks such as managing emails and viewing relevant customer information.
You can also easily track data, such as the times of the day or week when you receive the most calls, and from there, you can plan for more staff to be available to decrease customer wait times.
4. Scalability
On-premise solutions require an upfront investment in equipment, which means making substantial purchases based on predictions about what your business will need months and even years in the future. In this model, scaling up and down is more challenging.
Cloud-hosted options, on the other hand, are subscription-based, allowing you to scale up or down, be nimble, and tailor your plan and features as needed. This can reduce costs for companies that are rapidly hiring new employees, growing their clientele, opening new locations or only operating seasonally.
5. Advanced Security
A cloud-based phone system does present several security risks that an on-premise system does not, such as malware, phishing, fraud and hacking. However, it also presents the opportunity to bolster security in ways that would never be possible with an on-premise system. There are a number of VoIP (voice over internet protocol) security solutions you can implement, such as voice data encryption, a virtual private network (VPN) and multi-factor authentication.
How an MSP Can Help
Once you've made the decision to use a cloud-based solution, you may benefit from the help of a managed service provider. If you're not sure which service will work best for your business, the unified communication professionals at CoreTech can help you select and implement a product and system that fits your needs.
We will handle the ins and outs of managing the system, optimizing it for efficiency and security by making recommendations and performing maintenance. Hiring an MSP to implement the cloud-based phone system that's right for your business will allow you to focus on important aspects of your business that require your day-to-day attention, and you'll stay confident, knowing that your phone system is running smoothly.
Contact us today to find the right cloud-based business phone solution for your business.