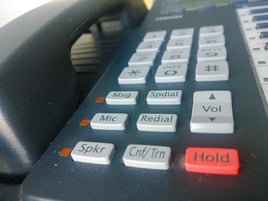 Sometimes while working on a phone system at a client site, I am asked, "Can we get a backup of this phone and voicemail programming?" More often than not, the answer is "Yes!" Several of the older Toshiba systems have backup capabilities that users are not always aware of or have not taken advantage of in a very long time. As these systems continue to age and reach end-of-life, the importance of a backup grows.
What if my Toshiba system still runs well?
One of the sayings we have always had around the UC or voice department is "Get a backup so you never need it." The moment your system fails will always be after you missed a backup or changed something that you may not have realized impacted the backup process, It's Murphy's Law. This happens more commonly in the voice communications field than you may think.
Many voice systems do have the potential to last a long time — especially Toshibas. I have worked on Toshiba systems that have been around longer than I have been in this field, sold and installed by my predecessors — and I have been in the phone industry for over 21 years! However, as these systems start going end of life, simply upgrading to a new phone system is a great option. But, what if you still need to hold on to your current phone system? You may decide to keep it around for a bit longer, so here are some options you need to keep in mind.
Could my phone system have features I don't know about?
Yes. Since many businesses have had their phone system as a constant for a longtime, the business grows and expands around them, and information about features can easily fall through the cracks. Especially, since there tends to be a lot of lateral and forward movement of employees in small to midsize businesses, licenses often get lost in the shuffle. Some features on phone systems require a license to be purchased in order to use them — for example, if you want your voicemail messages to be sent to you over email this requires you to purchase a license.
We often find that as staff leave or move to a new position, licenses tend to be forgotten about and left unused. Additionally, if those licenses were purchased 20 years ago, it's likely that the only users and administrators who were informed about the capabilities in the first place may have moved on to different positions, employers, or, in many cases, never used the feature(s) they had and forgot they were available to use.
How can I discover my phone system capabilities?
CoreTech can go through your voice equipment, analyze what you have, and identify features that you may not be using, but are still available for use. For those who are not quite ready to let go of their Toshiba phone systems, but are looking to get the most out of the time they have left with their current phone system, we have put together a Toshiba Tune-Up package. Get the status of your system, the equipment capacity, license availability, backup and more! To learn more about this offering or to sign up, click here! Otherwise, feel free to reach out to us at 402.398.9580 with any questions.