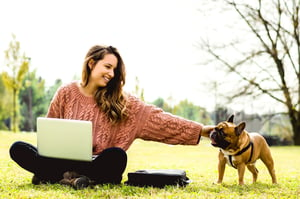 According to Gallup's State of the American Workplace 2017 report, over half of employees in the U.S. say that having a job that's conducive to a healthy work-life balance is very important to them. Depending on where you live, some cities are better than others at offering a healthier balance. According to smartasset.com, Cities with the Best Work-Life Balance – 2019 Edition, they examined 100 of the largest cities in the country and for the second year in a row, Omaha, NE ranked third. Madison, WI and Lincoln, NE came in first and second, respectively.
You're probably wondering how they determined these rankings. Here are some of the factors they examine:
Things to do – The percentage of arts, recreation and entertainment in each city.
Places to eat – The number of restaurants as a percent of all establishments.
Adult hang outs – Yes, the number of bars as a percentage of all establishments.
Housing – Median housing costs per percentage of income for full-time workers.
Commute – The number of minutes it takes to commute to work.
Hours worked – The average number of hours employees work per week and per year.
Long Commutes – Percentage of workers that have more than an hour commute to work each day.
Unemployment and Labor force participation rate – Data comes from the Census Bureau's 2017 1-year American Community Survey.
You may live in one of the top three cities, however remaining focused on maintaining a healthy work-life balance can be a challenge some days. Let me share some tips from Mental Health America about how to keep the balance.
At Work:
Set Goals – Set manageable goals for each day, you will be less stressed if you have more control over your day
Use your time at work efficiently – Break down a large project into smaller tasks and be sure to take breaks to clear your head and regroup between tasks. If you are overwhelmed, discuss this with your boss in order to prioritize your workload and get the most important tasks completed.
Ask for flexibility – Research shows having flexible hours or the option to work from home, makes employees more loyal and productive in their jobs.
Listen to music – For 30 years studies have shown music has its benefits in everyday life. It relieves stress, lowers blood pressure and increases productivity. If you don't have a private office, invest in some earbuds or headphones and crank up the tunes!
Communication - Don't complain. Communicate effectively and calmly. Let your boss know if you feel you are struggling with a certain project, ask for suggestions. Getting another person's viewpoint can be beneficial in reducing stress.
Remember that no one is perfect – Don't be so hard on yourself - you're only human.
At Home:
Disconnect – You spend all day on a computer, so put your phone aside, turn off that tablet or computer and take some time for yourself. Relax with a good book, go to a movie, find a hobby or spend time with family.
Responsibilities – Share the day-to-day responsibilities with your spouse or children, don't try to do it all yourself.
Commitments – Don't over commit yourself with outside activities. Your children's sports and school activities can have you running in ten different directions at once. Add community events and your own personal activities to the mix and you'll likely end up stressed and overwhelmed. You're not a Super Hero, learn to say no!
Maintain a Healthy Lifestyle – Be sure you are eating a well-balanced diet, getting enough sleep and exercising (even if it is just a walk around the block to clear your head). You'll feel better and it will help alleviate stress.
Ask for help – Whether you need to vent to a friend or need help with an elderly parent/family member, don't be afraid to ask for help. Take advantage of community programs, workplace Employee Assistance Programs (EAP), or talk to your doctor/mental health professional.
While we all need a little stress in our lives to keep us on our toes, it is best to maintain a balance, so give these helpful tips a try. Start with just one or two - I bet you will see a difference in your productivity at work and be happier and healthier than ever!
Is your company wondering how you can use technology to improve work-life balance? Contact CoreTech today, and we'll meet with you to learn about your organization's goals, so we can recommend the right technology for you.
Sources:
https://smartasset.com/checking-account/cities-with-the-best-work-life-balance-2019; Derek Miller, CEPF®; Feb. 22, 2019
Census Bureau's 2016 County Business Patterns Survey
Census Bureau's 2017 1-Year American Community Survey
http://www.mentalhealthamerica.net/work-life-balance