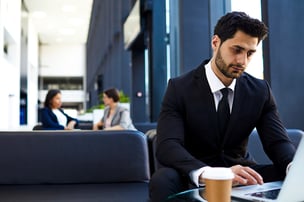 When thinking about cyber security threats, does it ever concern you how many threats are sitting out there, just on the other side of your firewall? What if we told you that your business could expand that cyber security shield further out — away from your internal network? The more space placed between your data and bad actors, and the more chances your security applications have to spot and stop malicious code before it acts, the better. That's why we're excited to offer Cisco Umbrella DNS Filtering to our clients! What makes Umbrella DNS Filtering important for your small to midsize business security? Read on to find out...
Umbrella is a cloud-based DNS filter. Essentially, when you navigate to a website, the traffic must first pass through a Cisco platform which uses a combination of continually harvested data, AI, and security researchers to determine if any malicious content is found. Then it either blocks or allows traffic to pass through, based on its findings. Files are also inspected before they're downloaded, using a combination of antivirus and advanced malware protection. The best part is that it provides this extra layer of security without a user experiencing any delays.
1. Distance
The further you can keep cyber threats away from your network, the better. This DNS filter stops malicious traffic as it goes through a cloud platform hosted by Cisco. That's well before it even reaches any of your endpoints.
Also, the way businesses are using technology to work effectively is changing. As more and more core business applications migrate to the cloud, your employees are spending less time working behind the safety of your firewall and more time venturing out onto the internet.
2. Mobility
Protect your business's data while your employees are working remotely, traveling, or attending meetings. Cisco Umbrella can be used on roaming laptops, tablets and even IoT devices. Creating a buffer between tech that contains business-sensitive information and outside bad actors can be difficult once the device is brought beyond the walls that house your network and main security infrastructure. A DNS filter is a great option for mitigating these external risks and keeping malware far away from your devices even when they're physically located in uncontrollable environments.
In addition, since this security service is delivered in the cloud, there is no hardware installation or software which must be manually updated. So you won't have to worry about ensuring that your laptops and tablets roaming out in the field are receiving the proper updates.
3. Compatibility
Umbrella integrates well with existing security stacks. You don't have to change your current setup, but you can simply add to your existing security strategy. Umbrella is able to share log data about internet activity with other management and monitoring systems you may already have in place.
If you see this offering adding value to your business security strategy, contact us! We would love to discuss your current security strategy to see how DNS filtering can be implemented at your business to keep your data as secure as possible.