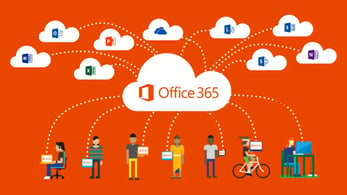 Gone are the days where you needed to email revised copy after revised copy, only to be told, "Wait, I have one more change." Whether you're in the same building, or across the globe, Office 365 makes it easy to work seamlessly with others. Office 365 is the subscription-based version of the Office suite and it receives new features and updates as they become available. With Office 365, you can be productive from anywhere, on any device. But more than just being able to work on documents, spreadsheets, or presentations while in or out of the office, it also allows you to collaborate with others without all the back-and-forth and waiting for responses. Here's how:
1. Co-authoring:
Trying to put together a report that requires the input of multiple people? One person can be working on the same document from home on their iPad, as their coworker in the office on their desktop PC. Office 365 makes it easy for several people to work in the same document, in real-time, as changes are being made. This way, you're always certain you're working off the most up-to-date version of your files. You can even see what others are writing, as they type it.
2. Editing:
Do you have a draft that needs to be edited? Leave a comment on a specific section, sentence, or word. Others who have been given access to the document are then able to read and reply directly to your comments. Once a conclusion has been reached, you are able to Resolve the thread, which keeps an inactive record of the comments. If someone later decides that it needs to be discussed further, they can simply Reopen the thread. Or if it was an easily resolved, one-off comment it can just be deleted. Need a specific person's input on a particular section? Put an "@" before their name to get their attention.
3. Desktop to cloud:
Do you need a fresh set of eyes to look over your document before it goes public? Just because you started putting it together in your desktop application doesn't mean it's stuck there forever. Freely move documents from being stored on your machine or in your internal network to being stored in the cloud.
4. Team chat:
Not only can you make comments in documents themselves, but with Microsoft Teams you can send a quick instant message to the coworker or group you're attempting to collaborate with. Chat makes it simple to freely brainstorm ideas with your team. You can reply to specific comments and you can @ mention people in order to make sure they don't miss an important note or comment.
5. Sharing:
You can easily share a document to a channel or share directly with a person or two in Teams. Or you can click Share in the document itself and input those you would like to give access to edit or read-only. Even if you do give someone access to a document today, you may later revoke their access to the document at any time. You're even able to share and collaborate on documents with people outside your organization that don't have Office 365.
Interested in learning more about what Office 365 can do to boost your business's level of collaboration? Check out their site. If your business struggles with collaborating and working as a team, there may be some breaks in the way your network is structured. Contact us today and we can discuss your communication processes and discuss potential fixes.