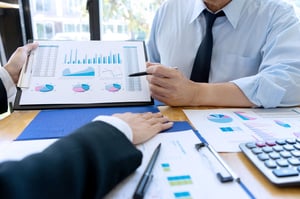 Microsoft Teams has reached 115 million daily active users, and those numbers aren't going to decrease anytime soon. The convenience and functionality of this platform makes it a serious contender for business communication in any industry.
If your business isn't already using Microsoft Teams, you're missing out on an easy-to-navigate hub where you can get all of your team and project communications done in one place.
So why not

just hop into

Microsoft

Teams and start creating

T

eams and

C

hannels right away

?
The implementation of any new technology requires detailed planning. The plan will help your shift to the platform be more organized and well-adopted by your employees. It will save you time and provide productivity right out of the gate. These are all reasons why your organization will benefit from engaging an IT consultant for your Microsoft Teams implementation.
Why does my business need to hire an IT consultant? Isn't Microsoft Teams already a part of Microsoft 365?
While Teams is a part of Microsoft 365 and is readily available on your computer, Microsoft Teams is a large, complex application with a number of features and capabilities. You don't want to risk a less than optimal configuration.
When implementing any new technology, you want to ensure that it will help meet business objectives and not hinder productivity.
This is where an IT consultant can help with your Microsoft Teams deployment. They can help you:
Formulate a customized project plan for your business

Implement

Microsoft

Teams best practices

Secure

the

application and maintain compliance

Maximize

effective use and employee productivity

Provide training

to

increase adoption
1. Formulate a customized project plan for your business
Any IT project, including the deployment of Microsoft Teams, takes careful planning and consideration.
You want the process to go as smoothly as possible, from planning all the way through final execution of the project.
When working with an IT consultant, they will partner with you to learn about your business and your goals. A consultant will strive to understand your day-to-day operations and processes, and work with you to maximize the effectiveness of your Microsoft Teams experience.
2. Adhere
to
Microsoft
Teams best practices
As mentioned previously, Microsoft Teams offers a number of features.
Chat? Calling? Channels? Teams? What feature is the right one to use for a given task? Who should have permission to create Teams? Who can control notifications?
Answers to these questions, and more, depend on your business and your intended use of Microsoft Teams. An IT consultant can help establish processes and permissions to standardize your company's use of the platform.
3. Secure the application
and maintain compliance standards
To meet compliance requirements, your business needs to consider two things:
T

he type of business

you have

The necessary regulations of that industry

(think

of

fields like finance and healthcare—both have stringent requirements for compliance)
An IT consultant will use the information they gain during discovery and planning sessions to recommend a customized, flexible security solution.
IT consulting firms make it their mission to keep their clients safe from cyber security threats and trends. Their teams of skilled technicians maintain cyber security credentials, and they stay ahead of the latest changes to ensure that your systems are compliant with industry guidelines.
4. Maximize effective use and employee productivity
Without careful planning and execution, your business risks interruptions, including lost data and productivity.
In the initial adoption stages and beyond, an IT consulting firm can help assess potential issues and identify any necessary areas of improvement. They will also help you standardize your existing systems, so you always experience optimal performance.
5. Provide training to increase adoption
When your business deploys any new technology, you can sometimes meet initial resistance from your users.
They may be accustomed to their current setup and hesitant to change—even if the application you are deploying is more optimal and beneficial to them in the long run.
When you work with an IT consultant, their team will assist with getting your employees quickly up to speed with Microsoft Teams, providing the necessary training and resources to get them on board with your new processes and workflows.
If your organization wants to
start
us
ing
Microsoft Teams, you'll benefit from hiring an IT consultant like CoreTech.
An IT consultant keeps the frustration and reduced productivity to a minimum, and they'll help make certain that Teams meets business goals. An IT consulting firm will get you on your way to maximizing collaboration and communication in no time.
And when you work with CoreTech, you'll be partnering with an entire team who cares about your organization and your success. We pride ourselves on building long-term partnerships with our clients, and we understand that no two businesses are the same.
Reach out to us today to learn more about Microsoft Teams consulting services. We're happy to answer any questions you have about getting started.
And in the meantime, check out these other great posts on Microsoft Teams!