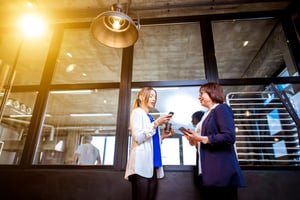 Whether you're planning to open up a second location in town or you already have multiple offices across the country, maintaining a phone system can be challenging for businesses with more than one physical location. However, if your multi-location business wants to maintain effective communication and promote cross-office collaboration, it's imperative that you invest in voice communications infrastructure. It will make it easier for the entire organization to communicate both internally and externally.
Continuing to manage legacy hardware and software, upgrades, and maintenance can get expensive. And overseeing vendor relationships, adding and removing users and services, and effectively routing calls takes staff's time away from the core business tasks that help your organization grow.
That's where cloud-hosted phone systems come in.
Cloud voice systems offer the key features that businesses with multiple locations need to maintain open lines of communication with clients and staff across locations. Here are just a few of the ways a cloud-based VoIP system can benefit your multi-location business:
1. You can set up cloud voice for new offices and integrate with existing locations in a few simple steps.
Cloud phone systems are infinitely scalable. While older systems require new carrier contracts, phone systems, and networks for each new office, as well as a new license for each user, none of that is necessary with cloud voice. Adding new users when you open another office and integrating these users into the existing system is easy and affordable because you are paying a set price per user.
In addition to making it easier for companies to add new users, cloud-based VoIP systems also make it easier to delete users and re-route calls to another staff member. Clients will often call the employee they are used to working with, even if that person has left the company. With a cloud voice system, your business can re-route these calls to the appropriate person, so you can be certain that no customer gets overlooked.
2. Cloud-based phone systems make it convenient to route calls between locations.
Perhaps one of the greatest benefits of cloud-based phone systems for multi-location businesses is that they enable you to easily route calls between locations. With cloud-based VoIP systems, if a customer calls one location looking for an employee who is at another branch, you can quickly transfer the call to the right person without requiring the caller to dial another number. This saves your company time while ensuring effective customer service.
Cloud-based VoIP systems also allow employees to be mobile and flexible. Users can decide what happens when a call comes into their number. For instance, some employees may opt to have the call ring at their desk and then go to voicemail, while others may want the call to go to their cell phone after trying their desk phone. This is a great option for employees who work from different locations, must often visit client sites, travel frequently, or work from home.
3. Cloud voice is intuitive and user-friendly.
Yet another major benefit of cloud-based phone systems is that they are very user-friendly. Features and functions are intuitive and easy for non-technical personnel to use. There are also an abundance of online resources for users to access, which explain the benefits of the features and how to use them. This means there is very little disruption for businesses who are introducing cloud voice systems. In addition, there are minimal costs associated with training the end-users on how to use the system.
A user-friendly communication tool also helps promote a happier, more empowered workforce. Phone systems should help employees communicate easily and effectively with their coworkers and clients. Better communication can benefit job satisfaction and morale. And the bottom line is: when your staff is happy, so are your customers.
4. Improved business continuity and disaster recovery.
Cloud-based VoIP makes it easier to provide a seamless customer experience across locations, and it is also helpful for disaster recovery. For instance, if a company has one location that's experiencing an internet or power issue and its systems are offline, rather than shutting down operations, the business can continue to operate out of its other locations. This ensures that all customers are able to get what they need, even if one location is experiencing technical difficulties.
Find the Best Cloud-Based Phone System
Overall, a cloud voice system is the ideal solution for businesses with multiple locations, as it allows these organizations to reduce complexity and improve communication, while minimizing telecommunications costs.
Need help finding the right cloud voice system for your business? Contact CoreTech today and rest easy knowing that your voice communication needs will be met. From helping you choose the right phone installation for your business, to giving your team the training they need to get the most out of your cloud voice system, CoreTech will provide the services you need. If you're ready to upgrade your phone system, get in touch today.