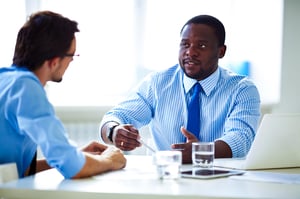 If technology is an integral part of running your business — as it is for most businesses today — you shouldn't restrict yourself to only seeing your IT Managed Service Provider when something is broken. Proactive planning and IT consulting should occur regularly in order to align your security solutions and business technology with your company's plans for growth. If your MSP's only focus is on fixing your technology after it breaks, you'll end up with recurring issues and technology that holds your business behind the competition.
When you partner with CoreTech as your IT consultant, not only do you get access to our technical IT System Administrators and Engineers, you're also assigned an IT Manager to oversee your business's overall IT performance and assist in developing your annual IT road-map and strategy. In addition, you are also assigned an Account Manager who works to ensure that our partnership is working cohesively and all your business needs are being met.
Here are a few ways we use IT Consulting Services to help your business stay ahead of the curve:
Quarterly Business Review:
Prior to meeting with each client for their QBR, we run a group of assessments that are able to point out potential issues with specific machines or systems, as well as identify recurring issues and areas for improvement. We then take this information to our clients and go over our recommendations for the purpose of avoiding downtime, improving overall network performance, and providing new security solutions for any uncovered vulnerabilities.
Strategic Business Review:
On an annual basis, we sit down with our clients to discuss where their business is headed and what recent advancements in technology will help propel their business forward. Since each of our clients are different, no two SBRs look the same. We take a look at what you have running on your network, what types of devices you're using, how you access the internet, and what types of security vulnerabilities you're at risk for. From there, we decide what would plug in well and bring the most value to your specific processes. This helps us lay out a comprehensive IT road-map that details what technology to implement and when projects will be completed.
Annual Budgeting:
As we go over a client's strategic business review, we also build their annual budget. In an annual budget we incorporate all anticipated IT spend for the coming year in a way that works best for the individual business. We will assess anticipated business growth, security upgrades, projects, technology equipment lifecycles, the addition of new systems, application subscriptions, any openings of new offices or branches, and organic growth in data storage and data backup. This is to help our clients avoid surprises in their spending and keep a flow of projects throughout the year, as they have already been allotted for.
Keeping up with industry standards regarding technology performance and security is very important to us because it's essential for our clients' success. Our staff focuses on keeping ourselves in-the-know through research, training, and involvement in industry organizations and peer groups.
If you're interested in discussing your business's future as it relates to technology and cyber security, contact us today!