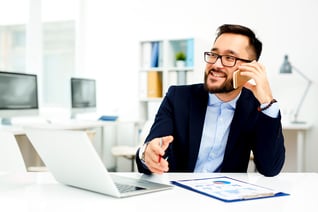 Are you trying to figure out what phone system is best for your business? It's an important decision that typically comes down to a choice between on-premise or cloud-based solutions.
On-premise systems are managed with infrastructure housed at your business's physical location, hence the name. Cloud systems, on the other hand, are hosted by a third party platform in the cloud. Cloud-based phone systems are a strong option for small to midsize businesses. These systems feature top-of-the line features, usually cost less to maintain, and quite simply, are considered to be more modern technology. Opting for a cloud system lets you offload the burden of managing phone systems while benefiting from data-center-level infrastructure. It also streamlines connections between your office, mobile users, and other business locations.
That said, there are certain circumstances where an on-premise system makes more sense. Below, let's examine what each phone system has to offer and the factors you'll need to consider before choosing one or the other.
What to Ask Yourself Before You Decide on a Phone System
Before you can determine whether an on-premise or cloud system is best for you, it's important to ask these questions to determine your needs, capacity, and goals.
Where are users calling from?
Are all of your users in one location, or do you have remote or mobile users? Do you have any workers who are mobile but currently use a separate smartphone to communicate with clients, vendors, and team members?
If all of your users are in one location, and you have a relatively small organization with little need for advanced features, an on-premise system may be more cost effective.
If you want mobility or collaborative features, cloud systems have what you're looking for. This is especially true if you have mobile or remote workers relying on their own devices to make calls. Using the mobile features available through cloud-hosted phone systems offers more control for the company over remote user communication. The company phone administrator is able to revoke access to company contacts and the call systems if necessary - even if an employee is using his or her own cell phone to dial out.
Since you can create or replicate the same functionality with either system, business owners often want to know why they should pay for desk phones when some employees are rarely at the office. Honestly, you don't necessarily have to. Cell phone applications can be used as company phone extensions so that communication can be unified and streamlined.
Do you have any existing contractual obligations?
Do you already have phone carrier or internet service provider contracts established?
If so, depending on the contract, this may limit your business to choosing an on-premise system. That being said, we can help you review existing ISP and phone vendor contracts to see what providers will allow.
What is your current infrastructure and internet connection like?
What kind of infrastructure and wiring do you currently have? Can it support an upgraded system, or would you need to invest in better infrastructure? How is your current internet connection, speed, and reliability?
If your current internet connection is unreliable or not very robust, an on-premise system may be the best option. Furthermore, if your current facilities rely on older wiring, it may be cost-prohibitive to upgrade.
Although these specific situations may warrant an on-premise solution, it's generally recommended that you move to a cloud-based system if possible. Investing in a cloud-hosted phone system removes the burden of maintaining and upgrading phone infrastructure while allowing your team to take advantage of mobile and advanced features, saving you money in the long run.
How do you do business?
How are calls routed for your business? Do you have a simple system with extensions, or do you use automatic call distribution? How many staff need extensions?
An older on-premise system can make it challenging to add more extensions as your business grows. Using the cloud offers an unlimited number of lines. It's also great for collaboration or conference calls, since it can easily support Unified Communications solutions and other collaborative tools, without a great deal of work to integrate features.
Using an on-premise system means that conference calls may need to come through a separate service. The amount of available lines are limited in on-premise systems, which can make it difficult to host conference calls. In a cloud system, you have unlimited lines: everyone on your team could be hosting separate conference calls with no problem.
Does the phone system fit your budget?
Where do phone expenses fit into your IT budget? Which features are absolute must-haves? What are your technology spending priorities? Are there upcoming plans for technology upgrades, such as data cabling?
Upgrading to a cloud phone system is an operational expense rather than capital expenditure. There is a small upfront fee, but everything else is covered with a monthly service fee. You spend less money to begin with, and your hardware and software will always be up-to-date and maintained. Rather than spending money on new systems every five years, you can have the best, most efficient tools in your office at all times. This can have an enormous impact on the communication and efficiency of your business.
The Bottom Line
In general, cloud phone systems are the best option unless there are factors that make it unworkable for an organization. These systems are reliable and robust, and they provide greater flexibility and a better, more adaptable feature set. Cloud systems have a per-user, per-month charge that includes everything: maintenance, users, lines, and updates.
Regardless of which phone system you're leaning toward, our team will help you review your options and decide which one makes the most sense for your budget, needs, and current technology investments. We pride ourselves on integrating the best phone systems while taking into consideration your business requirements and technology goals. We'll also help you plan for, install, and configure your phone systems, as well as performing any necessary maintenance in the future.
All you need to know is how your business functions, what your work flow is like, and what you need the system to do - we'll handle the rest. Contact us today to get started!