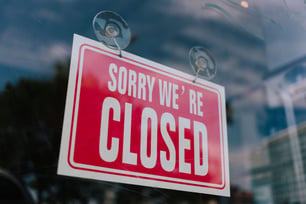 Being the target of a cybercriminal is not a fun experience for anyone, but it's definitely a lot worse if you don't have a plan to get back on your feet afterwards. Cybercriminals have caught on to the fact that small and midsize businesses don't spend as much money on IT security, making them easier targets than large, multimillion-dollar companies. It's important to note that 62% off all cyber-attacks are carried out on SMBs, according to IBM. Additionally, the National Cyber Security Alliance states that about 60% of SMBs who experience a hack, go out of business within a six-month period after the attack.
Wondering how a breach in your IT security could be so detrimental to your business? Well, there are a number of different ways hackers damage businesses. The more negative outcomes you encounter and the longer it takes to recover, the harder it will be on your organization.
So, what are the potential negative outcomes of being hacked?

1. Monetary Loss
Fixing the issue - If you don't have any sort of plan with a managed IT service provider, you will be billed on an hourly basis for the amount of time it takes to fix the issue. Let's say you only have one computer that's been hacked, it could still take hours or possibly days to repair, depending on how extensive the damage is.
Multiple computers – Certain types of malware easily spread through your entire network. If all of your computers are infected and need to be cleaned and restored, that's going to rack up your bill quickly.
Equipment damage – A hack always presents the possibility of equipment damage. You could end up having to purchase and replace certain parts of your computer. Worse yet, some infections are bad enough to fry your entire machine, and that is painful for your budget!
Downtime – If your network is wiped out by malware, how much will that affect your business? Will employees still be able to perform job duties? What amount of profits would you lose by being shut down for a day? In addition to paying to fix the issues, retrieve the operational files, and order new equipment, can you afford to not be in business?
Paying a ransom – Ransomware is a whole tricky business in and of itself. Your level of preparation and the decisions you make when the situation arises will determine how large of an impact it will have on you. Take a look at our infographic to determine what you would do in the case of a ransomware attack and what it would cost you.

2. Data Loss
Destroyed data – If your computer was wiped clean today, what data could you be without and still be able to run effectively? How long would it take you to recreate the files that you can't function without? Is there documentation, data, or records you utilize, that can't be replicated? Are your essential files backed up? It's important to know the answers to questions like these before you find yourself in the middle of a crisis.
Stolen data – Any company would experience real fear at the prospect of having their financial information stolen. But beyond that, what valuable data or documentation do you not want others to have access to?

Could your list of clients be poached by competitors?

Do you have the perfect formula for sales or marketing that has placed you at the top of your industry?


3. Reputation
Leaked information – Your business may not have dark skeletons in the closet, however your reputation still isn't something to cross off your list of concerns. All businesses have access to information that needs to be kept from prying eyes. For companies in the health or financial management industries, news of your clients' private information being stolen by cyber criminals could tarnish your business beyond repair, not to mention the fines you will have to pay to regulating agencies. Are your clients paying your invoices by credit card? Protect that information as, if leaked, it won't look good for your reputation.
Identity fraud – If a hacker gains access to your email account, they can send emails while posing as you. When recipients open that "invoice" from "you" and it turns out to be a virus that infects their whole network, they may not be too keen on receiving emails from you in the future.

Well, this all may seem bleak, however there are preventative measures you can take to keep your business on solid ground, no matter what hackers throw at it. That's why we place so much of our focus on investing in prevention, backup and training. If you think a 30-minute training session on how to spot a phishing email once a quarter is a pain, try not being able to access your network for days – keeping your business at a complete standstill. Training really can mean the difference between a hack bringing down your entire business or it just being a bump in the road. If you're not positive your business could survive a hack, we need to start a conversation, call us at 402.398.9580 or email us at info@coretech.us.
Sources:
https://www.symantec.com/content/dam/symantec/docs/reports/istr-23-executive-summary-en.pdf
https://www.symantec.com/content/dam/symantec/docs/security-center/white-papers/istr-ransomware-2017-en.pdf
https://securelist.com/kaspersky-security-bulletin-2016-story-of-the-year/76757/
https://press.malwarebytes.com/2018/01/25/malwarebytes-annual-state-malware-report-reveals-ransomware-detections-increased-90-percent/
https://www.engadget.com/2017/08/02/ransomware-attacks-most-affect-small-businesses/