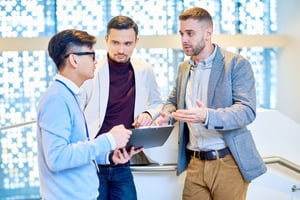 A layered approach to cyber security is more secure, but it is also more complex. If you do not have adequate resources or team members with IT security experience, the best way you can protect your business from security threats is by hiring a managed service provider (MSP) for IT security. A managed IT security provider has the knowledge, experience and resources to help keep your business protected from cyber security threats.
Why You Need an MSP for Managed IT Security
If your team doesn't have the resources or expertise to develop, implement, manage and update your organization's IT security strategy, you may need to hire a managed service provider that specializes in security. Here are just a few ways that an MSP will benefit your IT security:
Your managed service provider will make sure your software and applications are up to date so you can identify security vulnerabilities as soon as they appear. The MSP will also ensure that your security strategy is implemented and updated as needed.
MSPs stay informed about the latest security trends and threats, and they familiarize themselves with the latest tools and vendors. This helps them recommend the most effective security solutions for your business.
Your MSP will help you implement security monitoring to provide alerts when suspicious behavior occurs. They will also help you backup your files onsite and in the cloud to protect your data and other assets if your system is hacked.
Do you already have an in-house IT team? Well, you may still benefit from working with an MSP. Depending on the size and expertise of your in-house IT security staff, it may not be realistic to expect them to monitor systems 24/7/365. With an MSP, your business has a team to provide additional bandwidth when your IT manager is out of the office. Additionally, MSPs can leverage their relationships with security vendors to ensure certain systems are kept up to date.
Questions to Ask Your Managed IT Security Provider
While most MSPs offer IT security as part of their managed services, not every MSP takes the same approach to protecting your business. Before you hire an MSP or IT security consulting firm, make sure you ask the following questions.
1. What IT security expertise do your staff members have?
You want to make sure that your MSP can effectively plan, implement, manage and update various aspects of your multi-layered security strategy. It's important to find out how long they have been providing managed IT security services and what types of expertise their team has.
2. How do you stay ahead of the latest security threats?
Hackers are always finding new ways to access IT systems and steal private data, which means that security requirements are always evolving. It's vital that the MSP you choose to work with stays up to date with the latest security and threat trends. They should work proactively to protect your business instead of just addressing threats as they appear.
3. How do you evaluate tools for preventing cyber attacks?
There are many IT security tools on the market today, and as long as new threats continue to emerge, new tools will continue to surface. It's important that you work with an MSP that has a strategic process for evaluating the different types of security tools available, so you know you are getting the best protection at the best price.
4. How often do you update a client's security strategy?
Security requirements evolve as the threat landscape changes. You need to make sure that you are working with an MSP that periodically evaluates your strategy and updates it as security requirements change or your company's needs evolve. If the MSP doesn't communicate security updates to you regularly, they are probably not staying on top of security threats.
5. What happens if/when my infrastructure goes down?
It's not a matter of 'if' anymore, but when. Hackers are diligent and smart and will find a way to exploit an opportunity. An effective managed service provider will have contingency plans in place. Your MSP should help create and manage your backups so that you have access to your data and applications in the event your system is not usable after a hack.
6. How will you ensure that my company is staying up to date on security technology ?
An effective MSP will not only help you implement and monitor your IT security solutions today, but also design a comprehensive security strategy. They will also introduce new technology that has come to market that they have tested in house. Before you work with an MSP, make sure that they are forward thinking and continuously learning what security solutions will be best for your company.
Managed IT Security Services: CoreTech's Approach
At CoreTech, we take a comprehensive approach to managed IT security services. We don't just focus on the latest tools and security trends. We take the time to learn more about your business and its processes, goals and requirements before making any suggestions or implementations. Our goal is to create a customized solution that's designed to keep your business protected while optimizing efficiency.
As part of that commitment to our clients, we actively pursue training and continuing education to keep our team of experts up to date on the latest IT security trends and solutions.
To learn more about the evolving security landscape and the importance of selecting the right managed service provider for your business, read our Latest Innovations in IT Security: 2020 ebook.