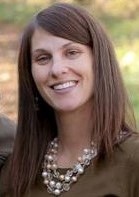 Angela has been with CoreTech since September of 2016. She is our bookkeeper and handles all accounting activities. There are a lot of moving parts within her position, so every single day is different.
1. What do you enjoy most about working in technology?
It is always growing and changing, plus I always get to work with the latest technology.
2. Who or what inspires you?
I can't say that any one person inspires me. I have a very competitive drive so I'm always trying to improve myself. So, I would say that competition inspires me to always improve in all aspects of my life.
3. What type of movies do you like? Do you have a favorite movie? What do you like about it?
I love westerns! I would have to say my favorite is Lonesome Dove. I like the simplicity of the movies and the era they take place in.
4. If you could swap places with anyone for a day, who would it be and why?
I've never thought about it. I would have to say Warren Buffet because he's one of the most respected and wealthiest men in the world, plus he's from Omaha.
5. Tell us an interesting fact about yourself?
I love to cook and throw dinner parties.
6. Tell us about your family. What do you like to do together?
I'm married with two boys, ages 2 & 10. We love to do anything outdoors, especially sports.
7. If you could have any one superpower, which would you choose?
The power to cure cancer. It's impacted so many lives.