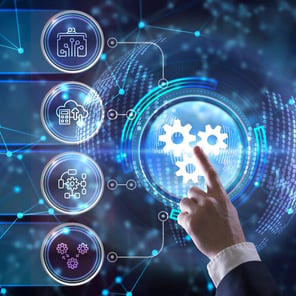 What are the burning technology topics in your organization? Now that artificial intelligence (AI) has been delivered to the masses and has everyone talking, both automation and AI are gaining traction. Whether it be staff expecting technology to perform to get the job done, or the C-suite strategizing a new way to impact their customer base to deliver productivity and stickiness, we all have opportunities when it comes to leading automation endeavors.

The IT department has a lot to offer their business relative to the leadership of automation initiatives. IT directors and IT managers will want to communicate the business benefits, as well as determine the ROI of these projects. Let's address the elephant in the room in this conversation as well. Where will the time to initiate and complete these projects come from? Let's start by establishing what IT support automation is and then talk about the business benefits. And within all of that, we will touch on where the time for all of this comes about.
What is IT support automation?
Technology is used to automate processes and tasks that would otherwise be done manually. Routine maintenance tasks are automated, including patching, application upgrades, and testing. Mass deployment of applications during non-work hours can also be automated to save IT staff time and eliminate staff downtime. What used to take many hours of work in a midsize business is now deployed after hours in 30-90 minutes.
Cybersecurity is another example of IT support automation in action. Enterprise-level tools and resources are available to midsize businesses through outsourced IT providers. All-encompassing tools are AI-powered to prevent, detect, threat-hunt, and undo threats that come across all user endpoints, containers, cloud workloads, and IoT devices. Modern automation is defending your business quicker, on a larger scale, and with higher accuracy across your company's attack surface.
And the examples go on. Whether it be the digitization of documents, increasing the speed of customer service processes across your entire business, or deploying educational bots, to gathering data and documents at a speed never seen before.
How can I prioritize IT support automation?
As an IT director or manager, do you oversee a few IT team members or provide in-house IT help desk support for your entire business? You can start small by setting some initiatives that impact daily, routine tasks. Or you can go big by establishing initiatives based on the strategies and plans that your company has in place.

The bottom line is that your company can be more profitable with automated workflows and you, and your staff can help. The IT staff can also reduce errors and risk, as well as improve customer satisfaction scores by working with other departments to automate time-consuming tasks. Communicate your goals to the leadership team in language that applies to their strategies.

Are you concerned that you don't have the time to even take a breath and plan, or get others on board with your plan? Outsourcing IT support can bring relief as you pass along help desk services, IT automation, or security. With time freed up, and the outsource company monitoring your network and security, you can focus on other projects and initiatives. I think you will be surprised by how much value you will receive for your dollars by engaging an outsourced IT provider.
How does IT support automation benefit my business?
Really consider how the following benefits apply to your business. These benefits will become the basis of the plan you submit to your C-suite. You will likely need to spend some money to see the benefits, however, if your ROI is positive, you have a solid plan. Here is a comprehensive list of the benefits of implementing technology automation in your medium-sized business:
Cost savings
Putting repetitive tasks into an automated process or workflow reduces time spent and thus labor costs. IT staff can make a significant impact and save others time by automating and outsourcing some of what they do, as well as helping other departments and teams in their organization with automation and technology.
Rise in productivity
Human resources are expensive. When you consider compensation packages, benefits, and the number of people on a team, you see the dollars adding up. You realize the impact automation can have on your company. What would your boss think if you could take a team of people that solve complex and vital issues and remove the repetitive tasks, so they could focus on what they do best? Identify areas with low-hanging fruit, and tasks that require little time to automate. Build on those successes. Are you finding you need to outsource some of your department's tasks to free up your focus on assisting others with productivity? Consider outsourcing your IT help desk to a company that automates.
Reduction of human error
Automation, when thought through and planned well, reduces human errors. Mistakes cost labor time to fix and additional money depending on what the error was and if it impacted other areas or departments. For example, monitoring all your IT systems from servers to networks and devices and backups will significantly reduce human error and downtime.
Optimization of resources
Free up your staff resources for other work by automating repetitive tasks. Give the departments and staff back time and energy to put towards meeting other goals.
Improved customer experience
Analyze your customer experience starting with the data they require and the communication they send back and forth. Who is your customer and what ways do they communicate? Several methods can be used effectively and efficiently to not only meet their needs but also go above and beyond to improve their experience with your staff and company. Automation helps you meet their needs easier and faster. And, according to Forrester, 69% of organizations surveyed stated the satisfaction of their customer service agents has improved as well. This boosts retention rates and provides staff consistency to customers.
Strong customer loyalty
According to Forrester, 59% of organizations surveyed say blending automation with human agents increases customer retention rates, boosting the lifetime value of their customers for greater profitability. So, if you plan well and make a difference in the lives of your customers, your company may expect a higher lifetime value and in turn, greater profitability in the business.
Improved scalability
When your team is small, there are fewer processes and less human error. But if your business is ready to scale you will want to take the repetitive and manual tasks and automate them. Pull together a clear picture of the functional areas of operations, identify responsibilities that will benefit from efficiency improvements, and write the steps and actions to take. Then prioritize areas to automate. Process identification and documentation is a whole firm effort. Departments will want to set quarterly goals to accomplish their documentation. Explore automation within your tech stack first, and then consider other applications or tools to migrate towards.
Happier employees
Lastly, but most importantly, when IT staff deploy automation that reduces the amount of time spent on repetitive tasks everyone is happier—employees and management. You've given them back time to spend on more interesting work or training to improve their skills, which benefits the company.
Again, allowing IT to focus on more complex and strategic tasks, will help drive the business toward the benefits listed above and who doesn't want that? As an IT Director or IT Manager your ability to communicate these benefits to your leadership team, so they align with the established strategies is key to the approval of your plans. Quantify the benefits and show the ROI.
How do CoreTech's help desk services automate and save time for midsize businesses?
Does your current IT support service staff take advantage of automation to streamline and effectively accomplish repetitive tasks? Whether you have a few people in-house or have outsourced IT support services you will be saving time and money by implementing automation. Take advantage of what there is to offer, here's a short list to get you started:
Incoming ticket processing. A specific system that addresses alerts for service level agreements (SLAs), auto-creates tickets from an email, flags urgency and impact of services, and auto-responds at different stages of the ticket process will do a lot to deliver a smoother running help desk.
Auto-delivery of application installations. Field staff? Remote staff? No problem. Initial application installations and updates are taken care of when the device is on and connected to the internet.
Delivery of cumulative updates and security patches. It's important to test and pilot some updates and patches before they are auto-delivered to the entire company. What if a particular update isn't ready for prime time and in fact causes problems for end users? You would want it tested ahead of time, right? Another tip: oftentimes, early adopters in the tech community try an update or patch and post information right away as to how it is working. System Administrators following the right forums receive these tips and delay that update or patch until it is fixed.
Reporting. Technology asset reports can be generated routinely to verify the equipment on the system and how it is performing. Gauges in the report reflect how well the CPU, memory, and disk use over time are functioning. Thus, issues can be resolved prior to them becoming a problem. In addition, software reports show what specific applications or versions of software are on the equipment.
Alert notifications. Offline servers generate a ticket and notify our on-call system 24x7x365. The System Administrators jump on the troubleshooting and resolution quickly and also communicate with clients, so they know what is occurring. Also, failed or failing hard drives generate urgent alerts so that a replacement is sourced and installed quickly.
Additional automation. Scripts that install applications, fixes, or feature updates on one-to-many machines will save a lot of time and can be done during off hours, so staff are not disrupted. There is also the potential to uninstall software depending on the application. Automated-fix templates will also run disk cleanups, start stopped services, and schedule reboots. They will also notify us of new applications that are installed, backup issues, locked accounts, and scheduled reboots.
IT Support Automation and Your Business
So, there you have it, many ways in which automation will save time and impact your IT staff, as well as your employees. Be certain to evaluate all the factors involved in implementing automation. Use an ROI calculator to determine if and how the project will benefit your business.
At CoreTech we provide IT support to Omaha and Lincoln metro areas. We often talk with business clients about the opportunity to automate the tasks they are doing manually today, ones that significantly benefit from automation. We help them determine the network, storage, internet speed, and performance capabilities they need to implement to maintain the applications. Or we capitalize on the tools they already own so that employees can be more productive and save time.
We also provide technology consulting services that help leadership teams go through the process of identifying processes that would be ripe for automation.
As an outsourced IT services provider, CoreTech teams up with internal IT staff or maintains a team to provide support to your employees, as well as strategic IT road maps, planning and budgeting for your leadership team. Reach out to us today!
Additional Resources