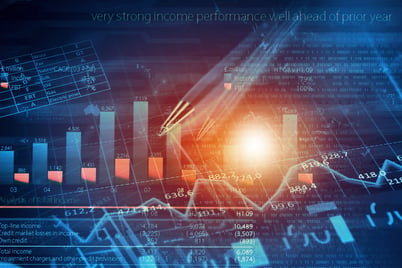 According to the CNBC-SurveyMonkey Small Business Survey, more than 80% of small business owners expect a recession as interest rates rise to reduce inflation around the nation. Whether Omaha businesses experience a recession or not, we wanted to offer six valuable suggestions when you find yourself making decisions that impact your company and technology.
1. Invest in technology to boost employee productivity and retention
Considering almost 30% of the American workforce is actively looking for a new job, finding and retaining hardworking employees is becoming increasingly difficult. The U.S. Department of Labor reported in February an increase in average wages for workers in the private sector by over 5% in the past year, and an almost 7% bump for rank-and-file workers. As a result, the cost of employees for the skills they bring to the table is rising.
One way to improve productivity and retain employees is to upgrade your employees' technology, specifically computers and communication systems. While it may seem counterproductive to spend money, investing in your staff to improve productivity will likely cost less than the potential cost of hiring new staff. Accommodating staff preferences, within reason, will boost morale and give them a say in what they need to improve efficiency in their workday.
Reflect on the dynamic of your current workforce by asking yourself:
How do I use my technology efficiently?
Where can I place the technology that will have the most impact on my business?
How can I enhance workplace productivity that attracts quality workers?
How could technology attract quality employees?


Investing in your SMB staff is a smart way to retain your best employees and limit turnover, which will help you build a solid, reliable work environment.
2. Outsource your IT solutions for cost efficiency
Consider outsourcing your IT support. You will get the services you need based on the consumption agreement with your IT managed service provider (MSP). In today's job market it does cost more to hire tech support employees in-house, so partnering with a business that monitors your network is better than having someone on staff that you spend money on to recruit, train, and provide benefits to. MSPs are able to offer lower costs to their clients as they are able to take advantage of tools, a team, and repeatable processes. They spread these costs across all clients and lower your overhead. Not only that, but MSPs provide technology expertise to strategically curate a plan that takes your technology to the next level.
3. Increase sales and marketing efforts with enhanced communication tools
Business owners often look to trim their marketing budget during an economic downturn or recession. It is tempting for certain as it reduces your spending in the short term; however, you are walking away from new prospects and businesses that will purchase from you when the economy improves.
Be certain you encourage your sales and account management teams to respond, reach out, and take advantage of available business. Equip your teams with the technology tools and training they need to increase their productivity and effectiveness. In this way, your investment in technology and software provides a greater return on investment.
And be careful how much you shrink your marketing efforts. It is often the responsibility of the marketing department to educate and inform current and potential customers on why they should start or continue partnering with you. Without that awareness, you might miss out on quality prospects who need the products and services you provide.
4. Take advantage of integration, automation, and workflows to save time
Solidify your IT processes by looking at your core business. Why do you do the things you do? Why are these systems set in place, and are they the most effective solutions? Another building block is examining your system's security. Ensure your IT infrastructure is safe, resilient, and working well to keep malicious actors out.
By examining your software systems and uncovering the best ways to integrate them, your customer service will improve because all internal teams will have up-to-date client information. Your staff will have the tools to analyze incoming data, predict trends, find improvement areas, and avoid costly decisions.
Building a solid IT infrastructure is one of the best ways to prepare for a financial crisis, cyberattack, and inflation. As artificial intelligence (AI) and other automated systems, like chatbots, become increasingly sophisticated, you can integrate these systems to streamline data between various channels and departments.
5. Do not cut your IT security budget
Due to the active and rapidly changing cyber threat landscape, one thing you don't want to cut is your IT security budget. During an economic downturn, your SMB is likely to be lean, and your staff will be producing at high levels of efficiency. Any disruption, breach, or ransomware will make things worse for your business financially, and it is essential to protect your business.
I stress maintaining your security because 60% of SMBs go out of business within six months after a data breach or cyber attack. Implementing layered security protects your business from downtime and additional expenses, as well as preserves your brand's reputation.
6. Monitor your tech subscriptions to prevent overcommitting
Most consumption-based subscriptions have annual contracts. Monitor those subscriptions to ensure you are not overcommitting yourself and thus increasing the cost of your subscription. When you sign a contract, be aware of any ongoing expenditures. Be certain you are able to cancel without additional fees or complications. This is especially important if a staff reduction is required or a reorganization occurs.
7. Avoid buying technology on credit
While technology will boost efficiency in the workplace, you don't want to carry more debt than you need to. According to the Harvard Business Review, companies with high debt must cut costs aggressively, which usually leads to layoffs. Your organization increases its vulnerability by accumulating debt. The company isn't financially nimble and able to withstand a crisis, such as a recession, employment issues, or a cyberattack.
When making a purchase, the best question is, "Does this investment make sense for my company?" If you are comfortable with your cash on hand and the opportunity for a return on your investment, then the purchase is worth it. If not, take advantage of the resources you already have or talk to your IT provider and create a realistic IT plan and roadmap to get you through the economic downturn or recession.
Come out of any crisis on top with CoreTech
Some businesses experience growth during an economic decline, Harvard Business Review attributes it to preparation. At CoreTech, we partner with our clients to create a custom IT roadmap and budget which allows SMBs to strategically position their business for success. Would this be helpful to your business? Contact us to discuss how we can help leverage your technology for business growth.