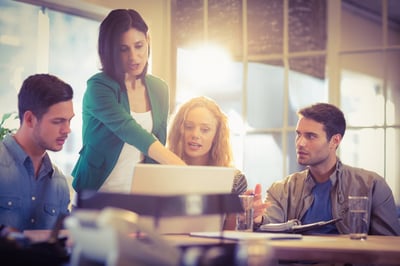 When you have good employees, you want to show your team members you value their dedication and hard work. Increased compensation or a bonus is great, however, quality tools to do their job can also contribute to retaining high-quality staff long-term, while also contributing to their productivity. Technology has evolved from a tool to enhance your system's efficiency to an integral business component. The impact of technology in the workplace is so pervasive that it is impossible to imagine life without it. While no two companies seem to use technology the same way, those who embrace it create a competitive advantage by reducing costs, developing employees, and staying at the forefront of innovation. Here is how you can use technology to retain staff and gain a competitive edge.
How technology drives innovation
Innovation doesn't usually occur with groundbreaking discoveries. Typically, innovation materializes regularly in minor improvements that build into significant results for the company and its customers. Innovation keeps businesses moving forward and drives success. When technology is applied effectively, it creates a platform for systematic improvements. Improvements such as automating time-consuming tasks pave the way for increased productivity and decrease monotony for employees, which opens the door for creativity and inspiration.
Stanford University found that people will work 64 percent longer on challenging tasks and perform better when collaborating with peers. There are numerous applications that encourage employees to collaborate. Programs like Slack, Teams, and Google Docs allow teams to work together in real time, keeping employees engaged and encouraging creative solutions.
How technology retains employees
Each person on your staff uses technology differently. Some may require remote work access, some employees may need robust processing power, while others require limited access to files and applications. Employees who are under-equipped with technology will become frustrated. Their productivity is impeded, and they will look for alternative solutions on their own, ones that may not be company-approved, which could be problematic for security.
It is easy for highly qualified employees to be poached by other businesses in the job market. Recruiters scan LinkedIn for those who meet their qualifications and contact them directly.
If the employee is frustrated at work or has little work-life balance, it is easier for them to entertain a conversation with the recruiter about their career development opportunities. If the offer is right, the employee will likely leave.
Conversely, employees supported by the organization have a hard time leaving. Responding to your staff's IT needs may be the easiest way to accommodate the individual needs of your team and increase employee retention. When a company provides its team with the best technology, it shows they care and are willing to invest in its team. When employees have the right technology, they feel more productive at work.
How technology provides a competitive edge
Technology can help you gain market share by improving customer service, launching products, increasing productivity, and enhancing your services. Adding mobile services has transformed many businesses. Previously, financing and banking were all done face to face. Today, consumers are applying for financing online. Credit Unions, for example, can engage directly with prospective customers through their mobile apps, which helps them remain competitive and develop loyalty with their customers.
One of the best advantages of technology is the ability to quickly and accurately process large amounts of data. With this data, you are able to track the KPIs important to your business, ones that indicate trends, reflect customer service levels, and determine the results of marketing and sales activities. Technology allows you to make business decisions based on current data. Your technology stack will track your customer's journey and provide insights for effective marketing and sales. Instead of reacting to competitors and trying to guess future product sales, you can make projections based on current data and trends.
How technology improves efficiency
Effective technology and automated workflow will really improve efficiency and effectiveness in your processes.Your employees can focus on customer-facing activities while eliminating duplication and speeding up other processes by automating specific tasks. Employees are better equipped to work with customers because they can access the customer information they need, as well as other information to get the job done.
Even the most complex processes can be streamlined to be efficient and effective. When complex processes are streamlined, the chance of human error is reduced, and your employees have more time to focus on revenue-generating tasks. Let your technology take over day-to-day tasks and focus on developing your team and providing them more learning opportunities.
How can you find the best technology for your company
The right technology will make a measurable difference in your business. To find the next steps for your business, consult with the IT professionals, at CoreTech. We have a full staff of experienced professionals. Our hands-on experience with multiple systems and applications provides expert knowledge to share the pros and cons of current or potential technological options. As a result, we can help you discover the best solutions for your company.
CoreTech will provide a free consultation to get you started. We take the time to learn your company's needs and generate solutions that align with your budget and goals. Reach out to us today to learn more!