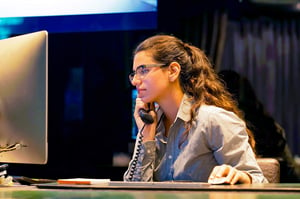 What are the first functions that come to mind when you think of a managed service provider (MSP)? IT support and help desk functions are usually the first things that come to mind. While these are certainly important aspects of the job, there is one key service we offer that often gets overlooked — external vendor management. MSPs play an important role in helping companies manage their third-party services, software, and hardware vendors so that they can focus on their core business.
What Is IT Vendor Management?
Many larger enterprises have a dedicated vendor representative on their in-house IT team to manage vendor relationships and work with vendors for support and troubleshooting. However, small to midsize businesses often don't have the resources to dedicate to vendor management, especially if they have a small in-house IT team or none at all. For these companies, getting vendor support for services, software, or hardware becomes a time consuming and frustrating experience.
That's where MSPs come in. They act as a liaison between your business and your various IT vendors. They provide vendor management support for the different technical aspects of your business:
Services: An MSP can help you find the right vendors for services like internet or phone to ensure that you have the features you need. MSPs also engage vendors when you need technical support to ensure business continuity.
Software: An MSP can also work with software vendors, like QuickBooks or Microsoft, when you run into any issues. The MSP can handle many of the technical problems you'll encounter while working directly with the vendor to resolve any issues that may be on their end. MSPs can also track and renew software subscriptions. This also may include software that runs your hardware like firewalls.
Hardware: MSPs will help your business purchase a variety of hardware — computers, firewalls, servers, voice and data cabling, etc. — so you have what you need to get the job done. Your MSP will also keep track of warranty information and help troubleshoot any hardware problems while working with the vendor to get a repair or replacement when necessary.
Benefits of Having an MSP Manage External Vendors
There are many benefits to working with a managed IT service provider to manage third-party vendors. Here are just a few.
Save Time When Technical Issues Arise
MSPs have the technical expertise necessary to help you when IT issues arise; this will save you time and get you back up and running faster. Much of the time, your MSP will be able to fix the issue quickly without involving the vendor. When the vendor does need to be involved to help fix an issue, your MSP will already have done troubleshooting, allowing them to get your IT ticket escalated to the right group that can resolve the issue.
Minimize Frustration Dealing with IT Support
When IT is not your area of expertise, it can be difficult and frustrating to obtain the support you need when something goes wrong with a service, software, or hardware. Even when you call your vendor to get help, you may find it difficult to troubleshoot the issue yourself. When you work with an MSP for vendor management, you can save yourself the frustration of dealing with technical issues since you'll have someone on your side with the IT expertise necessary to get it fixed quickly.
Enjoy One Point of Contact
One of the most convenient aspects of working with an MSP for external vendor management is that you can enjoy having just one point of contact for all your IT support needs. You will no longer have to look up different phone numbers or scramble to find your account information. Instead, you contact your MSP, and they take it from there.
Eliminate Arguments with Vendors
Though it doesn't happen often, there are times when a customer contacts a vendor directly and the vendor insists that the problem must be on the company's end. An MSP can help determine whether or not that's the case and work with the vendor to ensure that you are getting the help you need to get back up and running.
Get New Projects Started with Ease
If you want to start a new project that requires new IT resources or you're just contemplating changing vendors, an MSP can contact the vendors ahead of time and get all the necessary information to kick off the project or transition. The MSP expedites the upfront work with the vendors to ensure that your project is ready to start when you are.
Track Warranties, Licenses, and Security Certificates
Managed IT service providers also keep track of warranties, security certificates, and licenses for your company's hardware and software. By keeping documentation safe and accessible, MSPs take the burden off of you.
Managed IT Services in Omaha, Nebraska
If you're in the Omaha or Lincoln Metro and require external vendor management services from an MSP, our team at CoreTech is here for you. We're committed to helping everyone in your business get their job done effectively by providing them with IT support and vendor management that streamlines business processes.
At CoreTech, we think it's important to position ourselves as our client's IT department. We don't succeed if they don't. We get to know each client's tools and systems so we're ready to help whenever they run into an issue. Our team is big enough to have varied expertise, enabling us to solve any IT problem a business may run into. But we're also small enough to respond quickly and build close relationships with our clients, allowing us to give them the individualized attention they need. As a local Omaha business, we are also here to provide physical on-site help within the metro area, when you need it with minimal wait time.
Want to learn more? Contact us about our managed IT services.