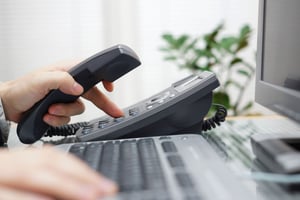 Just as your cell phone isn't merely for making calls anymore, office phone systems now integrate with other parts of your business. That's why this segment of technology isn't simply about phone systems anymore, it's now, unified communications (UC). UC works in conjunction with computers, cell phones, and other mobile devices, allowing you to do things like dial by clicking a number on your computer screen, sending voicemail messages via email, and allowing you to send text messages from your work number. It can even track data and pull useful information from your CRM right when you need it most. Basically, unified communications solutions allow you to communicate in the most convenient and effective ways imaginable.
Once you start to use these features and really experience their value, you're going to want to make sure they always work properly. Since computers and mobile devices are always going through upgrades and advancements, phone systems need updates in order for their features and applications to remain operational. Essentially, your phone will never stop working, unless something changes. A change could be as simple as a software update, or as much as the purchase of a whole new computer. At that point, the phone will need to know how to coordinate with the update or new machine. So, when you purchase a new phone system, it's crucial to register for your phone's software support and maintenance plan.
In addition to maintaining features that came with your phone originally, you'll have access to new features as they're released. Updates are also necessary to ensure that any bugs found in the phone's software, throughout its lifespan, are patched.
It's also important to purchase the plan right away and keep it up to date, as most companies will charge back pay for the amount of time you did not maintain a plan before they'll service your phone system. A single payment once a month is much more manageable than having to pay for a whole year, in one lump sum.
Phone systems do not have the same refresh cycle as computers or smartphones, they last much longer. We suggest investing in a quality system that will continue to work for your business over time. Although phone systems have been known to last upwards of 15-20 years, technology and your business will advance and change at a rate that necessitates updates and adaptations over time.
Will unified communications benefit your business? For more information reach out to us by phone at 402.398.9580 or by email at BrewingUpInnovations@coretech.us. We're happy to answer any questions about new phone systems or maintaining your current one.