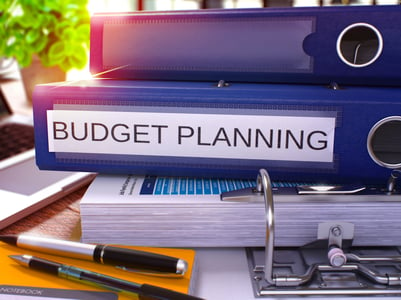 During the pandemic, technology proved its worth by connecting people, maintaining productivity, and even doing so remotely while simultaneously reaching revenue targets. According to Gartner, boards and CEOs are more willing to invest in technology due to the successful business outcomes it provides. As a result, 2021 saw worldwide IT spending rise by almost 9% and is forecasted to increase another 5% in 2022.
But how can you make your IT budget work for you?
Every business has priorities and projects requiring different types of tech equipment and applications to help them meet its goals. And it can be difficult for small business owners and managers to know what to put in their IT budget and how to plan for future tech expenses.
We have created an easy 5-step checklist for you to follow as you create a small business budget for IT services.
1. What are your IT needs? How do they fit into your long-term goals?
We believe these questions go together because they allow you to begin thinking about your vision and plans, then practically apply the associated business expenses. List what your IT needs are and prioritize them when creating a business budget. Are you constantly setting aside the important initiatives for urgent daily fixes?
2. Complete a comprehensive IT audit to determine what you may be missing from your infrastructure
You want to gather comprehensive information to meet your goals and ROI on the investment in technology. Involve your outsourced IT provider to help you plan and develop an accurate budget. Technology is an ongoing expense, and you will want to consult with people that have experience developing annual budgets.
What IT expenses did you incur in the previous year? What worked and what did not? As you draft your IT budget, look at the technical expenses that brought benefits to your business and possibly identify ones that kept the company from meeting quarterly objectives. Reviewing the past year will give you valuable insights to create a realistic template as you move forwards.
3. Create a comprehensive budget while including others' priorities
If someone outside of your company came in and reviewed your IT budget, could they identify the goals you want to accomplish when they see where your money is going? Be sure you have heard each department's needs, whether HR or sales to operations. The best way to do that is by inviting a representative from each department and including them in the vision and planning process. This gives each area a voice, which could innovate unique ideas and uncover potential opportunities.
4. Revise your draft
As you continue developing your IT budget, review the potential expenses to ensure they meet the company's needs. In doing so, you can explore and research different scenarios and analyze your goals from different perspectives. What spending will meet your goals and likely bring your business successful results? You can't predict the future; however, you can consider multiple scenarios to prepare for changes that might come your way throughout the year.
5. Set your IT budget realistically
Because technology takes up 8% of the average business's overall revenue, you need to be realistic about your spending and why. Consider your business's financial situation to predict how much money is available and how you will use it to meet the business goals. Learn from your mistakes and keep an open mind for new ideas. Will they help your business rise to meet your goals?
Adjust your budget as needed throughout the year. Make notes for your next budget to save yourself time on the next go around.
Need help creating an IT budget that fits your needs?
Finding the sweet spot for your IT budget is no easy task. The IT support and security expenses you need to account for will look different from other SMBs. We work with various clients in different industries to help them customize an IT budget, so they may go into the new year knowing what to expect and plan for. Contact us to learn more about technology budgeting and spending today.