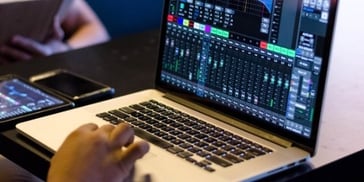 Operating a business in the 21st century demands cutting-edge technology to keep up with an ever-changing work environment. Today's cloud computing solutions for small businesses continue to become more sophisticated to meet user needs and accessibility.
To make the most of the benefits of cloud computing, consider incorporating these four cloud computing solutions into your day-to-day business operations.
Microsoft 365
Many small businesses already maintain Microsoft 365 subscriptions for email and Office applications such as Word and Excel. However, Microsoft 365 has multiple components to it, and you can make the most of your subscription by utilizing more of them. A fundamental next step beyond email and Office applications is using it for your primary file storage. It's a great cloud file server because it's so tightly integrated with the other programs you use to generate those files.
Also, Microsoft Teams allows you to collaborate in real time beyond just communications. It serves as a hub for project management and workflow that gives users the ability to co-author documents, hold meetings, access documentation and maintain team communications. It offers a wonderful opportunity to shift processes and workflows online and make them accessible across almost any platform — a necessity for working remotely. Teams can increase productivity across the board because no one lags behind in access.
In addition, you can move files to the cloud with a subscription you're already paying for, therefore cutting costs by eliminating in-office servers.
Phones and Voice Communication
Small businesses continue to rely on phone and voice communications, and one of the benefits of cloud computing is the ability to turn your cloud systems into a command center.
You can dial up anyone and, during your conversation, have access to all the information and files you need.
In fact, cloud systems inherently allow for working remotely by providing access from anywhere. You can even integrate your phone system with Microsoft Teams, if you subscribe to Microsoft 365.
They also provide significant additional benefits and functionality, including:
Improved mobility
Greater productivity
Reduced downtime
Improved call routing and communication
Want to learn more about the advantages of cloud-based phone systems? Check out this blog post: "5 Advantages of Cloud-Based Business Phone Systems."
Line-of-Business Applications
Essential line-of-business applications such as Salesforce, Quickbooks, or NetSuite now offer cloud options, which means you can continue to fully utilize those same applications from anywhere.
In the past, the cloud versions of these applications were merely watered-down versions downloaded on your computer. Now, though, cloud versions have the same features, so you can access and operate these applications seamlessly, even outside of the office.
When you have all these computer applications online, you can become serverless, and as a result, you can divest your business of hardware and capital costs, which can add substantial savings. Plus, you have better business continuity and recovery because everything's in the cloud — so you don't have to worry about potential interruptions that occur at the office. Finally, line-of-business applications provide the opportunity to work remotely, because, wherever you are, your access and user experience are the same as if users were in the office.
Teleconferencing
More small businesses have turned to such teleconferencing applications as Zoom, Go2Meeting, and Microsoft Teams because they are very useful in communicating with clients when in-person meetings aren't possible.
This is not only essential for keeping day-to-day business operations flowing smoothly for both you and your clients but also for keeping up team cohesion and culture.
Teleconferencing tools allow you and your teammates to see one another and be "face-to-face" even when you are apart. Although it isn't a perfect solution compared to in-person meetings, video enablement is the next best thing when it comes to communication, so you don't have to only rely on instant messaging, emails or phone calls to communicate with one another.
CoreTech is the Right Partner for Cloud Solutions
To leverage the benefits of cloud computing, it's important to partner with a knowledgeable and experienced managed service provider. At CoreTech, we've been implementing cloud solutions since long before they were called cloud solutions. As a result, we bring a lot of experience to cloud hosting and servicing.
In addition to cloud services through Microsoft, Amazon, or another public cloud solution, we offer private cloud hosting. We can also offer a server cluster at a data center available to end users anywhere — with security and connectivity they can count on.
CoreTech is confident in the tools and technology we offer because we leverage our own tools internally, and we vet them regularly to offer the best solutions for our clients.
Although there are many cloud-only service providers out there, CoreTech takes our services one step further: we manage networks and devices in addition to applications and cloud data, to ensure that our clients leverage all of the benefits of cloud computing.
Contact us today to see how we can help your small business make the most of cloud computing.