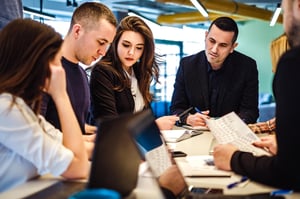 Since digital transformation has taken the business world by storm, many business owners remain uncertain on how to integrate cyber security with their business strategy and daily workflows. First, it's important for business owners to understand that security is not simply a process performed in the background, but when it's ingrained with business processes, it enables your business to thrive. So, how do you get cyber security and business strategy to align and work cohesively?
To start, think about how you formulate your business strategy. You probably gather all the pertinent information, data, and metrics and take a look at where your business wants to go in the future. From this, you create specific, attainable goals to work toward. Next, you take a look at the work and the assets required to achieve those goals. Now, which of those assets mean the difference between your business growing over the next few years and nosediving? Your most important assets are what you want to start building your cyber security strategy around.
Comparable to building your business strategy with your goals at the center – you need to decide what you're trying to achieve with your cyber security strategy. Everything you implement within your cyber security strategy should have a goal and a clear place where it fits in to your flow of business. You can't build an effective strategy without knowing what assets you have to protect.
If you approach cyber security by thinking about protecting your entire business as one entity, you're going to over-extend your budget, stress over issues that aren't pertinent to your specific business, and miss some holes in your defenses.
Once you identify what you must protect, gather research on security standards, the cyber security threat landscape, specific security technologies and applications, etc. Then you can start to identify how to integrate your cyber security strategy to best protect your important business assets. It's important to regularly keep up with cyber security research, as new technology arises every day. And, unfortunately, so do new cyber threats.
Also, be sure you don't forget about one of your most important security assets - your staff. People can either be your strongest security asset or the weakest link in your security defenses. Employees are often the targets in common cyber security attacks (phishing scams, CEO fraud, ransomware). An unknowing staff-base can render the security measures and protocols you've established, useless.
As a managed services provider, we're always researching new technology that could benefit our clients. Additionally, our staff is well-versed in the world of security standards. If your business needs assistance aligning their business strategy with cyber security – contact us. At CoreTech, our expert staff will walk you through this process from start to finish, as well as keep you ahead of the security defense curve.